This morning we continue our series on renewable energy. If you compiled a list of places in the world with a strong foothold in the renewable energy world, you may see Oregon listed for its solar manufacturing; or Spain and Germany for their favorable tax structures and emphasis on green technology. But Arizona is not considered a leader, despite an abundant and obvious resource: the sun. KJZZ's Tony Ganzer traveled to Germany to find out why that country has made renewable energy a priority.
TG: In a Berlin technology park, workers are assembling photovoltaic panels in a sterile, warehouse manufacturing facility.
Katrin Evers: "So we use this production site as well for testing new machines and new ways of production, new cells."
TG: Katrin Evers is with this solar module company, Solon, one of Germany's premier solar companies. It has offices around the world, including one of its major manufacturing plants in Tucson.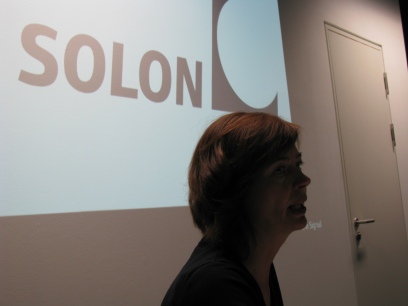 Evers: "The most developments and biggest companies came from Germany, but of course in the coming up years other countries will be very important as well, and Germany must not relax on this position. But we must continually work on improvement."
TG: Solon became a main supplier of solar technology to the German government shortly after the company was formed giving it a boost in a then undeveloped market. Now, Solon, and other German renewable energy companies are seen as the heavyweights in the world's renewable energy industry. And despite the current economic troubles, companies like Solon are still filling orders.
Evers: "The books are full. We still have our contracts to fill-in and to deliver modules, so so far we haven't felt anything of that yet. But it would be naïve to think of course we won't feel it next year."
TG: Another German energy heavyweight is REPower, about 270 miles Northwest of Berlin. The company supplies utilities and companies with wind turbines for projects around the world. This manufacturing site sits outside the small farm town of Husum near the North Sea. Towering wind turbines spin above grazing horses and growing wheat stalks. Pieter Wasmuth is the Chief Financial Officer for Repower. He says in Europe his company is concentrating on utility-backed off-shore wind projects. But Repower is also positioning itself in the maturing U-S market.
Wasmuth: " At the moment we're erecting 75 2-megawatt turbines in California…and last year we have done the first project: 47 MM92 in Goodnoe Hills—that's in Washington."
TG: Wasmuth says one of the reasons Germany has pushed renewable energy so hard, is because the country's natural resources are sparse.
Wasmuth: "We are very much dependent on imports, so all the gas is coming out of Russia. And if Mr. Putin doesn't like us he just turns down. And we don't want to be too much dependent."
TG: Russia, and its prime minister Vladimir Putin, are seen as unpredictable forces controlling roughly 36 percent of Germany's oil and gas supplies as of 2006. That reliance, combined with a depleting coal supply, pushed the German people and parliament to embrace an option for self-sufficient energy policy.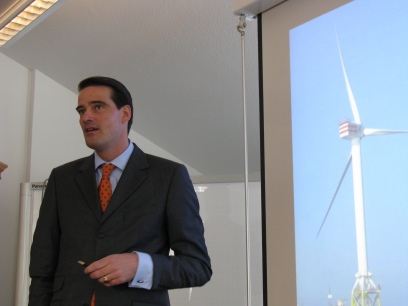 Peter Lindlahr: "For us in our policy it's so important to combine different things. One of the most important things is to improve energy efficiency, and to promote renewable energy."
TG: Peter Lindlahr is the head of the climate protection department for the city-state of Hamburg.
Lindlahr: "Projects are so important to show the people, to make it visual to make the people understand what's going on. But our job is to find a definition of good governance in climate protection strategy."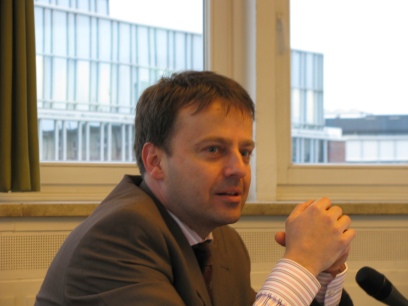 TG: Lindlahr says his government invests about 36-million dollars a year in specialty initiatives to protect the environment, while encouraging energy self-sufficiency. The money goes into improving transportation infrastructure and making government buildings more energy efficient,
Lindlahr: "This city has 430 schools with 3,400 school buildings or part of buildings. This is a tremendous potential for energy efficiency and solar—photovoltaics of course."
TG: Lindlahr says the government also directly invests in local companies wanting to adopt renewable energy practices. He says many initiatives are directly connected with federal goals to reduce carbon emissions, and promote industry. Lindlahr, and many German officials interviewed for this series, do not think of renewable energy policy and climate change protection as two separate issues.
TG: Germans see climate change as a tangible threat to their way of life, and have adjusted policy accordingly. Through tax policy, and direct intervention in the marketplace, the German government's thinking is that renewable energy can be the norm, while protecting the climate and creating jobs.
For KJZZ, I'm Tony Ganzer