All this week we're looking at renewable energy in Arizona, and hearing how one world leader in the industry, Germany, is doing business. Some observers see Arizona's progress in the renewable energy game slow-going, motivated mostly by tax incentives for companies and customers to go "green." As KJZZ's Tony Ganzer reports, the tax structure and policy in Europe is much more aggressive, but may not be the answer for Arizona.
(nats Hamburg port…mostly trucks and machinery)
TG: In Germany you don't have to go far to see how renewable energy has permeated life here. Despite the country's characteristically bad weather, solar panels still adorn roofs under cloudy skies and wind turbines stand watch over barren farm land. Technology is even making it to the shipping port of Hamburg.
Claus-Peter Harder: "We're handling not only containers which is usual nowadays, but also conventional cargo, project cargo..wind energy, that's the reason you are showing up a little bit here."
TG: Claus-Peter Harder is the head of Sales for the Buss group's port operations. He says his company has adapted to the growing wind industry in Germany by offering more specialized packaging services…allowing companies to export turbines, 200 foot long fan-blades, and other equipment.
Germany's renewable energy exports though are not limited to renewable technology.
Martin Hausner: "Tucson is a great place for the solar industry, I guess."
TG: Martin Hausner is the C-E-O of Schletter Inc, a subsidiary of a German solar company. His company makes mounting systems for solar panels, and opened an office in Tucson early in 2008.
Hausner: "Arizona and the states around Arizona have great opportunity to develop big solar sites. We find a lot of signs to support and improve the solar industry."
TG: Hausner's company is well established in Germany, but it's just now breaking into the U-S market. Hausner says Arizona may become a strong renewable energy hub in 3 to 4 years, if there's a will.
Hausner: " I think they want another energy industry, but I'm not sure how far ahead is the government in Arizona. That's at the moment a difficult question for me."
TG: Hausner says Arizona is on the right track with renewable technologies. The state offers an investment tax credit for renewable projects, and utilities are offering more incentives for customers to take green power. But he says those incentives are still much less than those offered in Germany or Spain, places with much less attractive climates for some renewable energy technologies.
Fred Morse: "Most people know they have the solar radiation comparable to Seattle or something, but they make up for the low solar radiation with a higher incentive so that projects can be financed."
TG: Fred Morse is an adviser for Abengoa, the company building Solana, a massive concentrated solar plant in Arizona to provide 280 Megawatts of power to the state by 2012. Morse was also a key solar energy adviser for the U-S Government in the administrations of Presidents Nixon through Reagan.
Morse: "They have the commitment and political will to do it."
TG: Morse says Europe's approach to renewable energy involves a feed-in tariff system, in which utilities are required by the government to buy renewable energy at above market rates—that higher price funds renewable energy projects. Another factor helping Germany's renewable energy movement is the viability of a green party, working with the other major parties.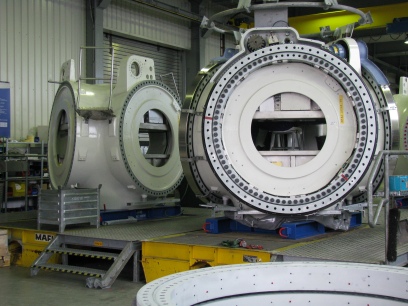 Morse: "While other countries currently may have more favorable policies—like Germany or Spain—I still think the technological capabilities of the U.S. is solid. I don't worry about our losing out to foreign competition."
TG: Morse says while Europeans actively pushed for sources of renewable energy after the gas crisis of the 1970s, the U-S did continue to invest in research and development on the federal level, in case one day, the country would embrace more renewable technology. Some of those technology advances come in the form of storage. The Solana solar project will be able to store 6 hours of solar power by capturing thermal energy to be used later.
Morse: "If the technology is allowed to enter the market to get some help to compete against the conventional subsidized fuels, it will not take long before this becomes the technology of choice for utilities."
James Beard: "If you look at subsidies given to oil and gas over the years, we're not on a level playing field yet."
TG: James Beard is the regional sales director for Solar City, a company that sells and leases solar panels. He says oil and gas companies have much more political clout in Washington than renewable energy companies, giving oil companies a better chance for more subsidies and tax breaks from federal lawmakers. Beard says the energy system in Arizona could change in five years, with the right policies and incentives in place. But without that type of support, the industry will stay in its infancy.
For KJZZ, I'm Tony Ganzer.