Phoenix maintains partnerships with cities around the world as a way to promote cultural and economic ties.  The sister cities program includes partnerships with places in Mexico, Canada and Japan.  But it's a relationship with the city of Prague—the capital of the Czech Republic—that is the focus of our next story.  KJZZ's Tony Ganzer traveled to Europe on a fellowship, and found a city rich in culture and history that few Phoenicians know much about, even though there are close Arizona ties.
Read a dispatch from Prague, and see more pictures…
The 14th century Church of Our Lady stands near a medieval Astronomical Clock in Prague's old town square.  Its gothic style spires tower above the cobblestone street and centuries old buildings.
Jan Kamoniski works in a tourism office near the square.  He points out that the 600-year-old clock, with its colorful dials and complicated mechanics, is a popular attraction.
"Every hour small windows open, and it shows you the Apostles," he says. "It used to be like a historical cinema.  It's showing the position of the planets and the system and the time zones as well…for the period of time it was very complicated."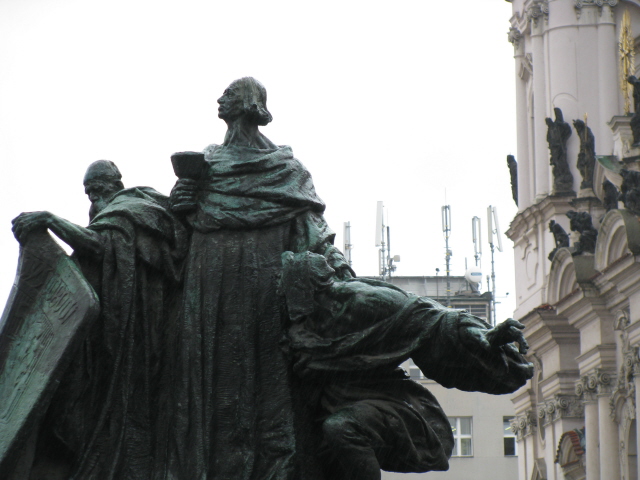 Kamoniski says millions of visitors stream into Prague each year to experience the city's unique history.
Locals and tourists alike stroll the many streets leading in and out of clock square.  Tour guides hold multicolored umbrellas, artificial flowers, and various signs to keep tourists close while traversing Prague's historical center.
"Hotspots to see: the old town square with the astronomical clock, the old town square, the Jewish quarter, the castle.  It's not only these three spots, but more about the buildings gathered around (them)," Kamoniski says.
Like many European cities, Prague has a culture-rich tradition. It was the home of writer Franz Kafka and composer Antonin Dvorak.
It was the capital of the Holy Roman Empire, the Nazi Prefectorate of Bohemia, communist Czechoslovakia, and is now the capital of the democratic Czech Republic.
On a fall weekend day, jazz seeps from a basement café near the historic town square. Nearby, members of a wedding party emerge from a centuries old church.  A sign in front of it invites patrons to an evening classical strings concert.
Jan Kamoniski, with the tourism office, says his biggest complaint of American tourists is that many don't realize the depth of Prague's history and culture.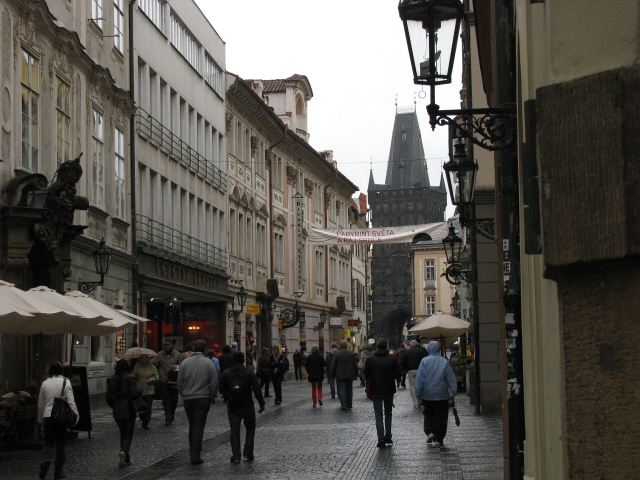 One of the Czech Republic's exports to North America, is pianist Antonin Kubalek. He emigrated to Canada in 1968, the same year the Soviet Union occupied then-Czechoslovakia. 
And in the spirit of sharing culture, Kubalek will be in Phoenix next month for a sister cities concert and Czech cultural event.   
"I believe there is culture every where you go to, but it is slightly different," says Slobodan Popovic with the Phoenix Sister Cities organization. "People have different ideas on how to go about it.  Along time ago when I moved to Phoenix there was less culture than there is now. That's one of the reasons I got involved: to help Phoenix become more cosmopolitan."
Popovic was born in Prague and now chairs the Phoenix sister cities Prague committee.  The two cities have been sister capital cities since 1991, promoting exchanges and cultural events between the countries.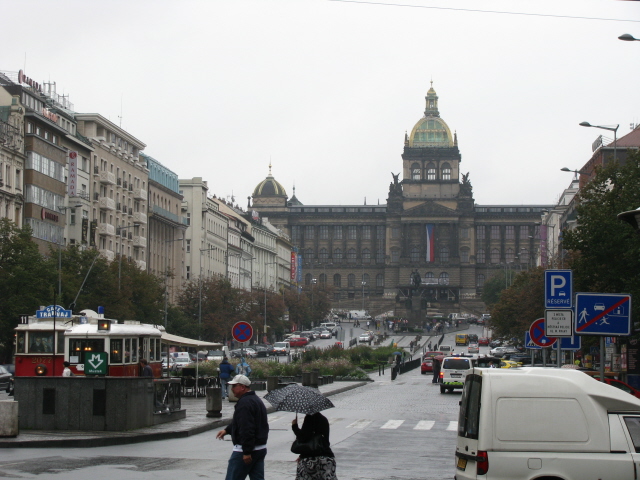 "There are many more cultural activities in Prague.  You will have at least one to two symphonic orchestra concerts every day.  Here you will have one every few weeks and that's it," Popovic says.
Czech pianist Antonin Kubalek and his daughter violinist Karolina will perform at a December 7th  event in Phoenix.
"Ideally I would hope the partnership progresses and gets even tighter," Popovic says. "If that will happen I don't know, it depends on the Phoenix city council."
Popovic says he'll continue to promote Prague as long as he can.
In tough economic times, though, with Phoenix looking to cut programs to save money, the fate of the Prague sister cities committee could be up in the air.