This morning we have another piece in our series looking at issues facing parents and guardians in Arizona.  Safety is an issue often at the top of a parent's list when looking for a place to raise their children.  KJZZ's Tony Ganzer met with two Valley organizations to ask how crime or other dangers in the area affect a child's ability to "play."
(nats leave it to beaver theme)
TG:  If you think of a "safe neighborhood" the scenes of Leave it to Beaver may spring to mind—a 50s era sitcom which fed off picket fences and occasional hijynx.  But neighborhoods, especially in big cities, often have more problems than can be solved in a half-hour program.
Vicki Owen: "We're like any other big city"
TG:  Vicki Owen is a Crime prevention specialist for the Gilbert Police Department—she's also president of the Arizona Crime Prevention Association.
Owen:  "We have a lot of property crime.  If you are looking at statistical data in terms of the State of Arizona, you'll find property crime is what we have the most of.  Which is not necessarily good, and not necessarily bad because on the violent side we have less."
TG:  Each section of the Valley has its own crime statistics, but the numbers for the city of Phoenix demonstrate the trend Owen mentions.  In 2007 Phoenix Police had more than 23-thousand arrests for property crime.  Phoenix PD only arrested 5000 people for violent crimes.  These statistics are usually for cities as a whole, broken down by neighborhoods.  But when looking to see crime statistics for the places children play, the numbers become less clear.
Owen: "Generally speaking parks are safe, but there's also things that do happen in parks.  For instance in Gilbert, I brought some crime statistics with me.  Assault, theft…can occur, given not a lot of the time, but they do happen. "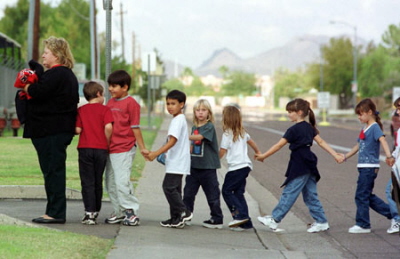 TG:  Owen says the best safety tools for a child is information.  She says kids need to use the buddy system,  know where they live, where to go in an emergency, and how to handle strangers.  But along with informing children, safety also rests in supervision.
(nats boys and girls club, Guadalupe, kids playing basketball)
TG:  At the Guadalupe branch of the Boys and Girls Club, kids are brought into a more structured play environment.  Jennifer Snyder is the non-profit's branch manager.
Snyder: "Supervision is the biggest part..should kids be playing, absolutely…off the x box, absolutely.  But there needs to be supervision."
TG:  Snyder says the Valley is more or less transient, with residents moving in and out constantly.  With that culture, come interesting problems.
Snyder: " I had a conversation with a family member recently about the idea that maybe a generation ago when I was growing up, maybe I was doing something wrong, one of the neighbors would call my mom.  And I think there's so much movement in and out of the city, that you don't always know who your neighbors are.  You may not even know who your next door neighbor is.  And I think that does take away from..to quote a former first lady, it really does take a village to raise a child."
TG:  Snyder is not a parent, but she says she would have no problem raising a child in the area.  She says the most important thing for parents to keep in mind is communication and supervision for children is important.  Vicki Owen with the Arizona Crime Prevention Association says block watch programs and acts of neighborhood unity seem to stem many problems with criminal activity.  But she also says a person is not immune to crime…no matter what.
For KJZZ I'm Tony Ganzer.