LANDON: Welcome to WRS's special coverage from the World Economic Forum in Davos. I'm Vincent Landon.
GANZER: And I'm Tony Ganzer.
They make up 50 percent of the world's population. But here in Davos women only represent 17 percent of participants. It reflects–even today–the continuing struggle for gender equality in society, business and government.
Here's Christine Lagarde, IMF managing director.
LAGARDE: "It makes economic sense to improve the situation of women; to make sure that they have access to education, that they have access to health, that they have access to jobs, that they have access to financing; and that they can sit at table with the same and the equal rights and opportunities."
LANDON: Right now equality is more honoured in the breach than in the observance. Sheryl Sandberg, is chief operating officer at Facebook.
SANDBERG: "Think of a career as a marathon. We know more women graduate from college. So the men and the women they get to the starting line, equally fit and trained. What happens? Gun goes off, men and women run. Everyone's cheering the men on. From the moment they leave school, the messages for the women are different. 'Are you sure you want to run?' 'Don't you want kids one day?' 'Should you start this marathon knowing you're not going to finish?' And as you get more senior, those voices get louder."
(AUDIO POSTCARD:)
"I am Ayta Kumcuoglu. I'm from Istanbul, Turkey. I have been doing investment banking for many years, but then right now I have four children and honestly I haven't really figured out how to match being a mother to four children with those kinds of hours of work.
In our bank 50 percent was women, but concentration tended to be on lower-ranking jobs.
It is very hard to translate actual careers into less rigorous or more manageable hours type of schedule. So maybe three-days a week, maybe some half-days or something would let me still stay in the workforce."
ANABEL GONZÁLEZ: "Costa Rica is a country that has made great strides in terms of women participation in government and politics."
GANZER: Anabel González is, Minister of Foreign Trade of Costa Rica. Costa Rica has a female president. More than 40 percent of members of Congress are women, so too the ministers of agriculture, economy, housing and foreign trade. But even here, there are challenges to overcome.
GONZÁLEZ: "I think the most important challenge for Costa Rica is to continue to build the childcare support networks so that women can more decisively participate in the workplace. We are working in this direction. And of course education, which is always a key element in strengthening women participation in the work place."
JUTTA URPILAINEN: "I would say educate your girls and women, that's the most important thing."
LANDON: Finland regularly tops the rankings in questions of gender equality, but Finnish finance minister Jutta Urpilainen says also in Finland, there are limits.
URPILAINEN: "Women's position in Finland is quite good if you compare the other countries. But it was a big surprise to me to see that in the economical sector and in the private companies we still have a lot to do. Because for instance in the CEOs, we don't have that many women. That's the one example where would like to see more progress in Finland also."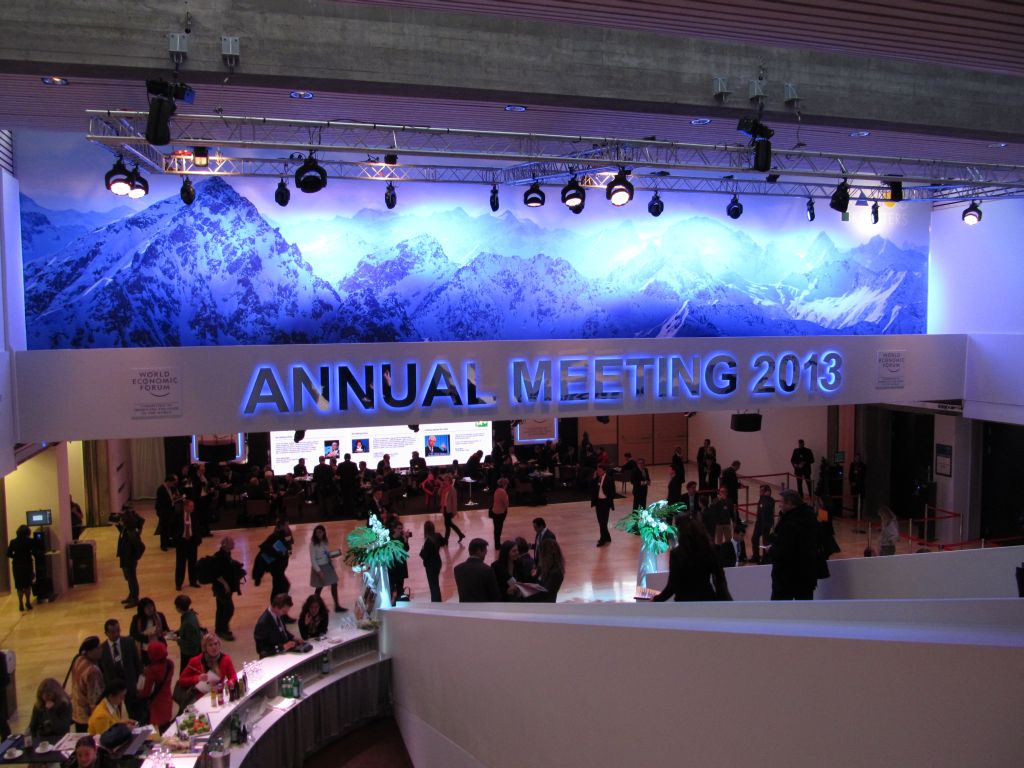 Inside the Congress Center
NAVI PILLAY: "In 2013, it's ridiculous that women do not have equal representation in jobs, in politics, and so on."
LANDON: Navi Pillay, the UN High Commissioner for Human Rights.
PILLAY: "There's opportunity for change, and that's what I sense around these halls, in the Arab states and opportunity for transformation. So many ideas on how women should be promoted and rightfully acknowledged. I say you can't have proper democracy unless you have the full participation of women."
LANDON: And even here in the corridors of the World Economic Forum's annual meeting they are a very distinct minority this year. I think 17 percent participation by women.
PILLAY: "Yes, so that's even a worse sign that there does not seem to be a progressive, an incremental increase of women's participation. I've just come from a very high-level meeting, and there were just four women and about 25 men there."
LANDON: What does one do…what does one do to either break these glass ceilings to get more women into boardrooms, to get women participating, to get women in some countries basic rights?
PILLAY: "I think that there has to be a change of mindset among men. This is not just a woman's issue where women are pushing for change. Where change has come, for instance, a woman president of Switzerland last year, the first woman president in South Korea. So societies are willing to vote for a woman. There isn't a prejudice there in societies. I think there is a mindset among men when they look for candidates or recruiting, they look amongst their own club, which is men. The more we address the issue of discrimination and gender equality I think that things will change."
LANDON: In countries like South Africa, gender is definitely on the agenda, says Charlotte Maponya of Brand South Africa, but she says there needs to be more sincerity in how gender issues are addressed.
CHARLOTTE MAPONYA: "It should really be because they value the input of women and not because they want to tick the box, and they want to fill the numbers. Women leaders have proven over and over again that they are capable. And it's not a matter of capable better than men, or as equal as men. They are just capable individuals. And they should be judged as that."
LANDON: One of the key problems in addressing gender issues is how to ensure at the practical level, that women have equal opportunities. Here's Sheryl Sandberg again.
SANDBERG: "Organizations need to address the institutional barriers we all know about: the overt discrimination, the non-overt discrimination, the lack of flexibility. But I think what the situation really calls for right now, in addition to that, is a much more open dialogue about gender, because we are all determined and we are all judged and held-back by very gender-determined stereotypes, and this is a conversation people rarely have, and no one has in companies."
GANZER: While there have been strides towards gender equality, most of the women we spoke with said…more needs to be done. I'm Tony Ganzer
LANDON: And I'm Vincent Landon