From an empty darkness came strands of golden, glowing lace, curving through the black night like an ancient language atop a lit canvas.  It was only the Irish coast, and Manchester, England at 4 a.m.  But the beauty was vivid, and the reality clear:  my long day was about to get longer.  I had left Phoenix 14 hours before, and was set to land in Berlin to tour the country's renewable energy sites.  I was eager to learn, and open to experience a European perspective on energy as presented by the German government and NGO InWent.
So as the passport official had me lift my cap as he compared passport photo to real guy, I hopped on the TXL bus toward Prenzlauerberg.  That evening I'd meet my colleagues, and begin the Transatlantic Climate Bridge.
The agenda was packed.  Our first day brought an overview from EcoLogic, a think tank specializing in European energy policy.  We also met with members of the German government's energy branch, discovering some truths about the country's views on renewable energy.  Many people claim Germany is a leader in renewable energy, though in policy, the country just takes the EU standards to a step higher.
But in industry and practice Germany is impressive.  Its building standards and tax incentives give clear favor to environmentally friendly technologies.  Government buildings are held to astronomical standards for energy consumption and generation, and every agency seems to be working toward the same goal: reduce carbon emissions.
Exactly why Germany has put so much..well…energy into renewable energy, could fall into any number of categories.  One could be an awareness of nature.  Germans feel climate change is a real, tangible threat to their society, and they've maneuvered their industries and way of life accordingly.  Also, Germany has limited natural resources.  Its forests are protected.  Its coal is depleting.  And its gas comes from Russia.  The only way this economic powerhouse could secure its place in the world, would be through energy independence and self sufficiency.
Germany also took the gas crisis of the 70s much more seriously than the U.S. did.  Though then President Jimmy Carter began a renewable energy movement, Germany continued to develop wind, solar, biomass, etc. technology with a real intention for it to replace coal, and eventually nuclear power.  Germany also contains a viable green party with serious political clout, whereas the greens in the U.S. don't have the resources to compete with the Dems and GOP.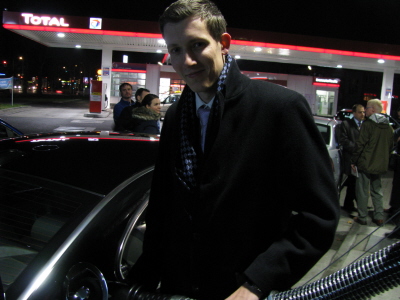 Along with the practical, Germany is pouring cash into possible technologies as well.  Lars Joschko works for BMW, and drove myself and two colleagues in a suped-up 7 Series Hydrogen car.  It was a smooth ride, and could change from gasoline to Hydrogen with a mere click.  As I switched between live TV, and "Low Rider" by War, it was clear the perspectives on energy in this place were much different from home.
After a short ride through Potsdam, and a visit to the city's climate institute, we headed to a chateau, on the way to Hamburg.
In Hamburg we met with the city's environmental chief who painted the picture of a city absorbed in renewable energy.  City buildings have renewable energy, schools are funded to have solar panels on their roofs, and businesses gain direct investment from the government to install renewable technologies.  Every part of society seemed to accept more taxation for more energy flexibility.  If there's one thing American's don't like, it's taxes.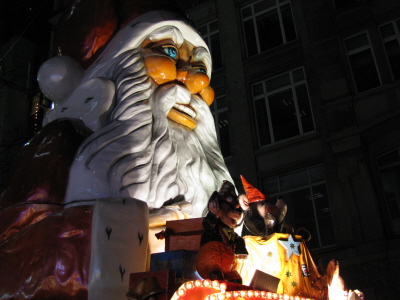 From Hamburg we visited Husum, a small town on the North Sea with a healthy wind industry.  Wind is poised to be the technology that powers Germany over the next decades.  Nuclear is only a transition technology in this part of the world…it's a necessary evil to get to an end point.
It was a worthwhile trip, and I've learned much more than I could have ever imagined about European energy policy.  In the coming weeks I'll piece together a series about Arizona's energy future, and about what lessons (if any) Arizona could learn from Germany.
There are no easy answers in energy policy, or in helping a people divorce from its way of life.  But with the coming series, maybe I'll be able to inform the public to make better decisions.
The Renewable Energy Series will air the first full week of January on KJZZ.  Scripts and pictures will be posted here shortly thereafter.