The life of an "expat" is an experience that comes in varied shades, with light-years between one extreme to the other.  Some companies totally fund a relocation abroad for example.  An employee might be paid $120,000 a year, given a company car, might have private school for his or her children paid for ($20,000/year value), full transport of furniture and personal items via ocean container might be paid for–add any number of other perks beyond my experience and expectation.
My reality is very different from that portrayed above.  My salary is modest, my transport is public, my (toddler) child is schooled by loving parents and paperbacks, and furniture…well…most of our furniture still sits in the US and came from the Swedish pre-fab giant Ikea, a branch of which sits conveniently right down the street from our new apartment.  And buying anew and reassembling our apartment turned out to be much cheaper than shipping over our sentimental loot from American storage.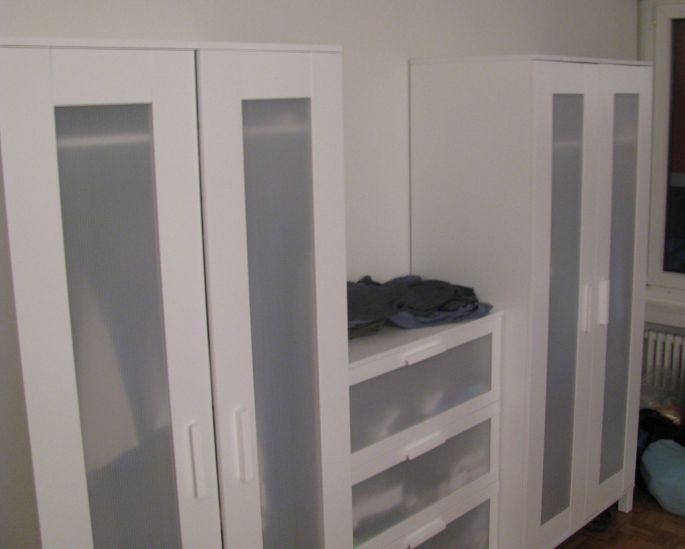 Assembled and still standing
To succeed at the game of Ikea shopping one must fully prepare.  Ikea is a maze in itself–mock bedrooms and hallways are mesmerizing and hypnotic, and can quickly derail a determined shopper.  The restaurant's meatballs are decently priced and tempting.  The smell of cheap wood and scented candles merge into a intoxicant.
Success at Ikea relies on controlling the store's effects, and sticking to a plan.  My wife and I like to do this by virtually shopping–we scour the Swedish-giant's website and log prices, models, warehouse locations, all in an effort to sweep through the pre-fab wilderness like a summer storm through a forest.
Our latest Ikea assault came in two waves–the first providing essentials to live in a bare 3 bedroom apartment (dishes, sofa bed, baby bed, shower curtain, lamps.)  The second wave–the one recently completed–rounded-out the apartment with a proper bedroom set, sofa-bed for the guest room, good lamps. I rented a converted 15-passenger van each time, and maneuvered it down a walkway to our apartment's front door.  The elevator was just big enough for all the pieces, so I could shuffle box after box from the van to the elevator…then the elevator into the apartment where slabs of wood and funny-looking screws awaited the final transformation.
—
We had lived for a year and a half in pre-furnished European domains of impersonal existence.  Each apartment was filled with tokens of memories we didn't hold, nor want.
Slowly but surely this apartment is seeming like our own.  Our bed is the same model we had in Tempe, though lessons-learned have made this experience much better than the last. (we knew to spring for better support slats for example.)  Slowly we are assembling a limited number of knick-knacks, and a bookshelf or two to hold those memories.
I am not sure our nomadic tribe will ever feel settled, but I think we are definitely less un-settled.  And if that can be made possible by Sweden, its meatballs, and its affordable furniture, that is fine by me.
Those other expats don't know what they are missing.