It's not uncommon for sitcoms to do flashback shows to fill space in a down-time, nor is it rare for end-of-year lists to flood shows or websites as the clock ticks toward New Year's.  In that spirit of "everyone else is doing it," I am here putting forth a look back at my year.
The catch?  I wanted to compile a list of some of my most important stories covered in 2012.  It is almost cliché for a journalist to say this, but my job is one which provides a lowly chap with a microphone (me) the "golden ticket" to unseen territory.  This could give access to the proverbial boardroom to interview business leaders; this could open the doors of Parliament for stories on tax debates and refugee rights; or it could give me access to a deeply personal aspect of someone's life, who trusts that I will do my utmost to respect and accurately portray whatever glimpse I am afforded.  It is the latter-most point that I relish the most.  Regular readers of this website will know I have a tendency to want to bring voice to those not often heard, or included in the greater society.  That's cliché though, too, isn't it?  "Giving voice to the voiceless."  I hope the difference between my work and the cliché is that I actually do it.  I talked to asylum seekers hoping not to be deported, one of whom said he walked from Greece.  I experienced Cairo with a Swiss-Egyptian, seeing his childhood home and the rough streets which frame his memories.  I am not saying I speak with the roughest characters, or the most excluded in our society–there is no contest in exploring lesser-seen fringes of our society.  But in the end I feel my work has been fair, and accurate, contributing to the greater discourse of what is happening in our communities.  Below are some of my highlights of a year gone by…
HOMELESS Refugees on German border helped by artists
9January
The story was quick to circulate through the less-reputable Swiss press before I got the assignment to look into it.  A refugee family, it was reported,
was left homeless after the refugee receiving center in Basel said it was full.  The report went on to say a woman posted news of this homeless family to Facebook, ultimately finding it a home.  This was all true, but there was more to the story, which ultimately spurred me to produce a full feature.  The "woman" was, in fact, a long-time advocate for migrants.  She, an artist, had set up an artistic space for refugees which became a kind of refuge for the refugees.  Her "bblackboxx" project has been around for years, but its effects are ever expanding.
Bwallom is from Algeria.  He says he walked for three months to Switzerland from Greece, applying for asylum.  He says his Canadian girlfriend will meet him here so he can start a new life, as a Christian, after being threatened, he says, by his Muslim family back home.  It was his first time at the bblackboxx.
DAVOS, Annual Meeting of the World Economic Forum
24January – 27January
Once a year you can find many of the world's elite business leaders, politicians, and high-rollers in the Alpine resort of Davos.  It is said that these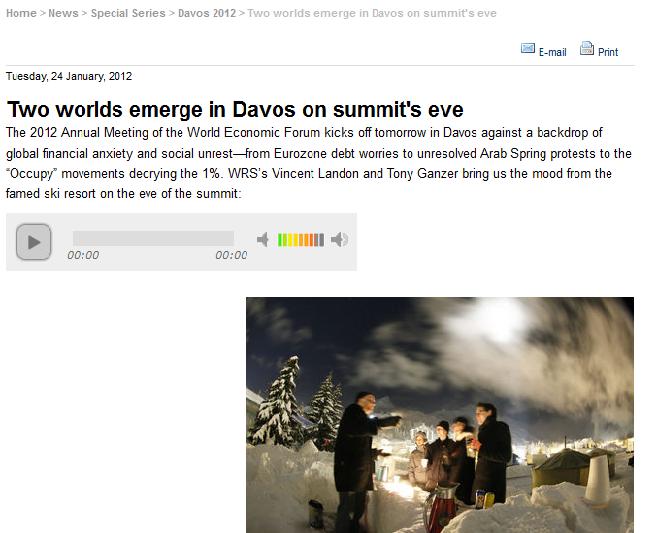 movers and shakers network at this event, though its actual value and purpose are debatable.  This was my first time covering the annual meeting of the WEF, and I was relegated to mostly public events due to the exclusivity of access badges.  I did get to see Nobel Laureate Joseph Stiglitz (whom I have interviewed previously) along with a lively discussion involving Israeli Defense Minister Ehud Barak and former British Prime Minister Gordon Brown.  At least some (all?) of Davos' appeal lies in its being a platform for publicity stunts.  This could come in the form of major donations (Gates Foundation comes to mind) or for a politician to perhaps calm markets (Angela Merkel giving a keynote.)  It could also be a spot for the Swiss to work out their problems with neighbors. (negotiations with Germany over Zurich airport noise…which yielded nothing but dreams.)
Full Coverage Online (new window)
EGYPT, A Week in Revolutionary Cairo
5March – 9March
I met Hamed while doing a story about homeless people who brave cold Zurich nights.  Hamed is a
social worker, who criss-crosses Zurich looking in public toilets, under freeway overpasses, and behind stacks of cut timber, for signs of homeless people who may not have gear to survive freezing temperatures.  In the course of profiling Hamed and his partner's work, I learned Hamed is Egyptian, and he grew up near Tahrir Square in Cairo.  The Egyptian revolution had affected him deeply, and he traveled to Cairo fairly regularly.  His family lives on the roof of a building down the street from the sites of violent clashes.  When I asked Hamed if he wanted to tell his story, maybe as an audio postcard, he declined.  "But you could come with me, to Cairo," he said. "And I will show you the revolution, and you can see Egypt yourself."  I asked if he was serious; he was.  This is not how one might think a radio series is conceived and executed, but I began planning a week-long series almost immediately.  I met with Swiss-Egyptians in Zurich for a local flavor, and them planned to meet with Swiss-based NGOs in Egypt, the UNHCR, the Swiss embassy, and, of course, see Egypt through Hamed's eyes.  It is a project I am proud to have experienced.
The amount of conversations, and deliberations, and very, very serious political debates that took place in Tahrir over the last 13 months now, is something Egypt has not witnessed in 60 years.
Listen to the Series Online (new window)
AUTOMATONS, Rebuilding Leonardo da Vinci
28March
In a mountain hideaway a craftsman keeps alive the art of automaton making.  He crafts mechanical robots which, with a turn of a key, sing songs or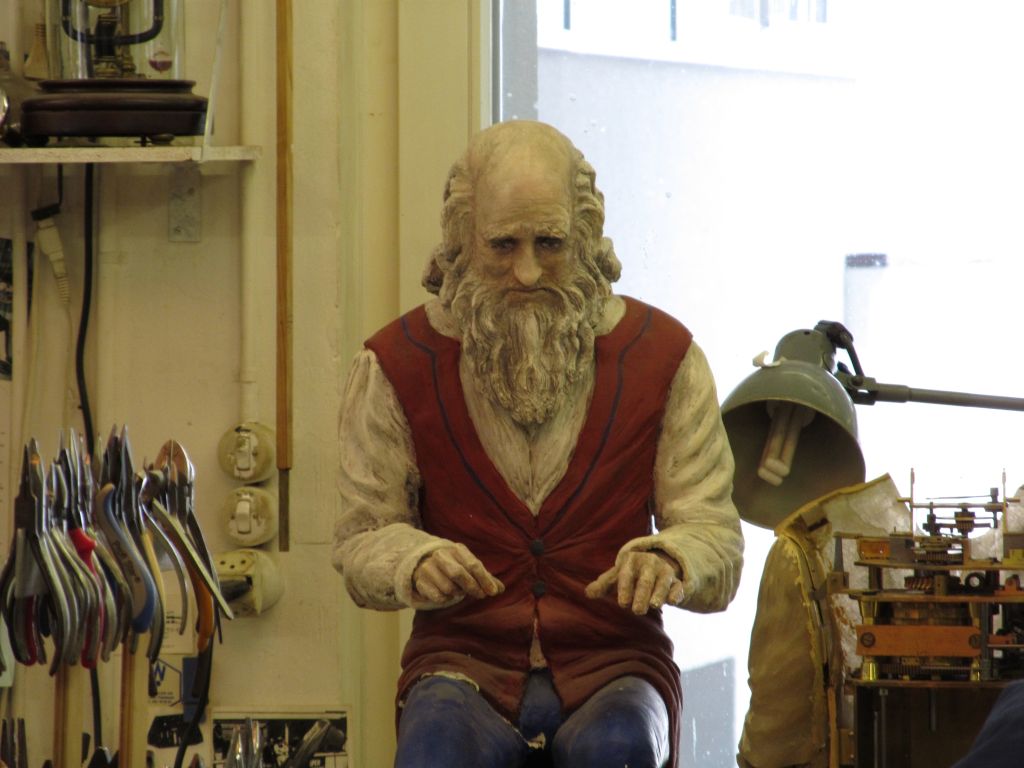 write poems.  A complex harmony of finely crafted gears bring these expensive pieces of art to life.  I was welcomed into the workshop of Mr. Junod, and saw where he was bringing Leonardo da Vinci to life.
Listen to a short audio postcard (new window)
Listen to a long program about the workshop (new window)
BANKING, How Swiss Finance is Changing
29August
Swiss banks are the lifeblood of this tiny country.  The fact foreign entities like stashing cash in a stable, safe, and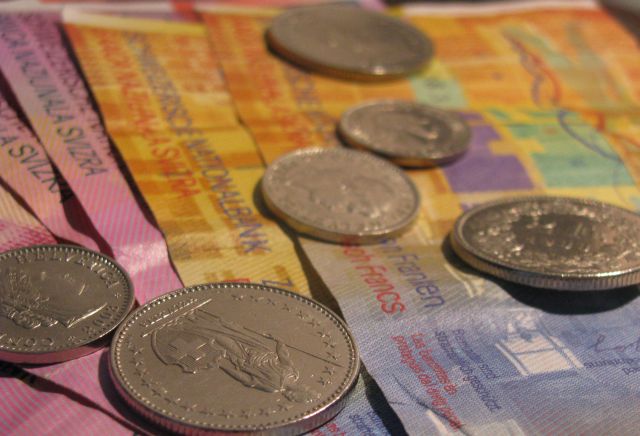 prickly central European democracy has kept said democracy vibrant and rich…very rich…for more than a century.  But other governments have grown tired of Switzerland as a haven for money, sometimes at the (tax revenue) expense of those foreign coffers.  So foreign tax investigators, justice officials, politicians, regular Joe and Jill Taxpayer, have upped the attention and pressure on the Swiss.  Throw in a scandal or two, and banks are forced to change how business is done.  I looked at this story from the angles of both American clients getting the boot because of added bureaucracy from the U.S., and also more generally about what the heck is happening here.
We have to be quite honest, most of the time whenever there is a scandal going on, a Swiss bank is involved.  In particular the big banks.  So UBS and Credit Suisse are, in my view, a problem for the reputation of Swiss banking.  And that's very unfortunate because they are quite important to Switzerland.
Listen about Americans disadvantaged by U.S. pressure on Swiss banks (new window)
Hear a long story about the future of Swiss banking (new window)
---
I enjoy the variety this job sometimes affords me, and I like to think that some of my stories make a difference, in some small way, in how folks may view the world.  My approach is fairly old school to news: be comprehensive, be honest, and let your characters be present.  I am fortunate to have had some big projects in 2012.  I honestly don't know what will happen in 2013, or what I might be doing professionally or personally when December 31, 2013 comes around.  But I like to think my ever-growing dossier of feature stories and experiences will inform my views and abilities for the better, even when the stories or events I cover represent some of society's worst.