It sounds like a river… and looks like a makeshift tributary.  But this water is flowing from a canal feeding one of Arizona's underground water banks, on Salt River Pima Indian Land, just north of Mesa.  KJZZ's Tony Ganzer reports on why regulators are hoping these water banks stay open for business.
TG:  From the surface the Granite Reef Underground Storage Project looks like 200 acres of rice patties; 7 rectangular basins built into the Earth, filled with still, shallow water.  A few cows graze on small vegetation peeking above the surface.
HALLIN:  "To ensure we have water, instead of above ground we're putting excess CAP and SRP water underground."
TG:  Bruce Hallin is with the Salt River Project utility company.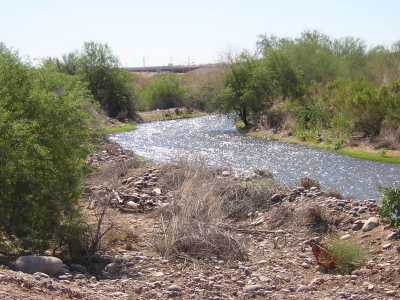 HALLIN:  "We've stored close to 900k acre feet…essentially 12 saguaro lakes underground at this 200 acre facility."
TG:  Here's how it works:  Colorado River water flows to a set of basins like this from the Central Arizona Project, or CAP, canal.  Once in the basins, the water percolates into the ground, like liquid through a coffee filter.  This water replenishes groundwater later used for agricultural and city water systems.
This site was picked by a geologist as part of the now dry Salt River because it has the right make-up to hold water.  And, the technology isn't limited to SRP's operations,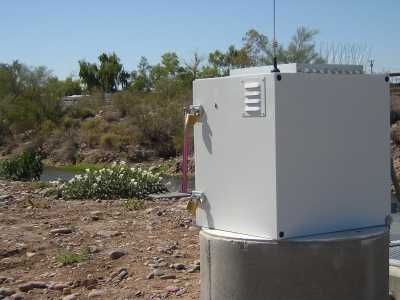 DOZIER:  "CAP has (lots of underground sites, begins to name them)
TG:  Larry Dozier is Deputy General Manager of CAP which has 7 banking sites.  He says one of the benefits of water banking is the ability to shield water from Arizona's harsh climate.
DOZIER:  "We do have a lot of storage capacity on the Colorado and Powell and Mead.  But if we leave our water there they evaporate, but if we put it underground it's here, it's ours, it's available."
GUENTHER: "To the degree the water is available to bank, we'll use those.  That's our insurance in case of drought."
TG:  Herb Guenther is director of Arizona's Department of Water Resources.  He likes the idea of water banks because they allow Arizona to draw down its full entitlement of Colorado River water every year by storing it, rather than just letting it flow down the river into Mexico.  But Guenther says banking is just one part of a bigger plan for Arizona water.
GUENTHER:  "We need to start looking at the next horizon: water banking, weather modification, veg management. "We've always been moving water the wrong way, we've been moving it from inland to the ocean, but it needs to go the other way."
HALLIN:  "We still have ample water supplies, but we are in a long-term drought and we have to use this water the most efficient way possible."
TG:  Bruce Hallin with SRP says it's water banking sites like this that allow the state to make deposits and withdrawals as needed, and they're definitely part of the future of Arizona water management.  And just like with any bank, the water stored will pay dividends over time.
For KJZZ, I'm Tony Ganzer.