After years of sitting dormant and dry, a large desalination plant in Yuma is finally operational today (March 1) for a 90-day test. KJZZ's Tony Ganzer reports.
TG:  Today marks the beginning of a 90-day test at the salt water filtering plant.  The plant has sat dormant since a flood caused its shut-down in the early 90s.  Plant manager Jim Cherry says this small-scale test will validate the plant's existence and cost.
Cherry: "Our main intent of this demonstration run is, first of all, check and make sure the system works.  It's been 15 years, these pipes have been sitting dry, these pumps have been sitting dry, so first thing is make sure the plant works.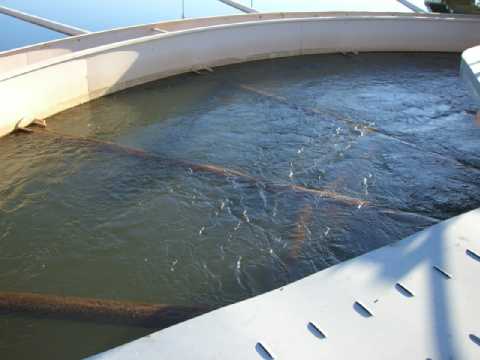 Desalination under way.
TG:  Annually to run this filtering plant it would cost 25-30 million dollars.  This small test will cost 1-million-dollars, including an environmental impact study on the Cienega de Santa Clara, a wetland created by the water the desalination plant was supposed to filter.  That impact study is being funded by the Central Arizona Project.
Cherry: "It gives us an opportunity to do all the checks and yet not spend such a great amount of money doing it."
TG: After this test regulators and environmentalists will meet and discuss the future options of using the Yuma Desalination Plant.
For KJZZ, I'm Tony Ganzer.