The United States Senate is now looking into a sweeping piece of energy legislation which narrowly passed through the House of Representatives last month. The bill proposes wide-scale changes to the U-S energy system, including among other things adding a cap and trade system on carbon emissions, and allotting funds for major investment in clean technologies. But as the U-S tries to position itself in the renewable energy market, it may find fierce competition from German companies already setting up shop state-side. This is especially true in one of the sunniest states, Arizona . Tony Ganzer reports.
Read a print version of this story here.
TG: When one thinks about Arizona and renewable energy, one might assume solar panels adorn every rooftop, to take advantage of the state's abundant sunshine. … Phoenix , Arizona boasts more than 300 days of sunshine a year. But to date, Arizona, like most states, hasn't moved quickly into the renewable energy game.
Kris Mayes: "We are improving the diversity of our energy portfolio by increasing the mix of energy including solar, but we're not there yet by any means."
TG: Kris Mayes is a member of Arizona 's utility regulator, the Corporation Commission. She's also a strong supporter of renewable energy, and helped craft the nation's first ever law to force public utilities to supply 15-percent of their electricity from renewable sources by 2025. Mayes says utilities once balked at the idea of supplying energy other than that from coal-fired power plants, but now she says the U-S system needs to change.
Mayes: "Right now, the fact of the matter is, it's true solar is a little more expensive than traditional fired electricity, but there's going to be a point when that's not the case."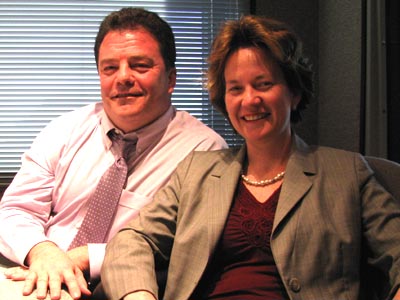 TG: Mayes points to fluctuations on the oil and gas markets as reason for governments to look for more sustainable energy technologies. German industry has been developing and exporting such technologies for decades, and some companies are hoping that experience will earn them big profits in the U-S market.
Martin Hausner: " I think they want another energy industry, but I'm not sure how far ahead is the government in Arizona . That's at the moment a difficult question for me."
TG: Martin Hausner is the C-E-O of Schletter Inc, a subsidiary of a German solar company of the same name. His business makes mounting systems for solar panels, and opened an office in Tucson early in 2008.
Hausner: "Arizona and the states around Arizona have great opportunity to develop big solar sites. We find a lot of signs to support and improve the solar industry."
(Nats: Hausner operating fabrication machine)
TG: Fabrication machines like these bend and shape metal into the pieces needed to mount solar panels to rooftops. Hausner says his company formed a production site in Arizona to allow U-S consumers to buy products made in the USA, even if the technology is based on German engineering. Even with a business plan, Hausner expects to wait three to five years before the market matures. The US is only now looking into broad-stroke renewable energy incentives like those long in place in European countries such as Germany and Spain .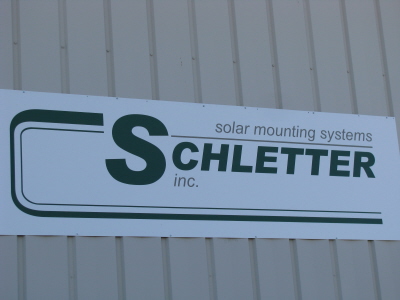 Hausner: "Now we need, from the government side, the basis to make it happen—to start this market…and hopefully in the next couple of years the US is the biggest market in the world."
TG: Just how big that market will be is still hard to say, though some estimates put the value of the current renewable energy market at 50-billion-dollars. That value is expected to quadruple to more than 200-billion-dollars by 2015. And it's that potential which inspired another German company, Solon, also to move to Tucson. Solon makes photovoltaic solar panels in a massive 105-thousand-square-foot manufacturing facility it opened late last year.
(fade up machine nats)
TG: At Solon's Berlin headquarters, workers assemble solar panels and test new production methods before transferring the technology and machinery to Arizona. Katrin Evers is a spokeswoman for Solon.
Evers: "The most developments and biggest companies came from Germany, but of course in the coming up years other countries will be very important as well, and Germany must not relax on this position. But we must continually work on improvement."
TG: Solon became a main supplier of solar technology to the German government shortly after the company was formed, giving it a boost in a then undeveloped market. Now Solon is riding a wave of positive public sentiment for renewable technologies in the US, helping the company stay profitable despite the current global economic troubles.
Evers: "The books are full. We still have our contracts to fill-in and to deliver modules, so so far we haven't felt anything of that yet. But it would be naïve to think of course we won't feel it next year."
TG: Another German energy heavyweight is REPower, with its headquarters about 270 miles northwest of Berlin. It supplies utilities and companies with wind turbines for projects around the world.
(Nats: chains, workers)
TG: This manufacturing site sits outside the small town of Husum near the North Sea. Towering wind turbines spin above grazing horses and growing wheat stalks. Pieter Wasmuth is the Chief Financial Officer for Repower.
Wasmuth: " At the moment we're erecting 75 2-megawatt turbines in California …and last year we have done the first project: 47 MM92 in Goodnoe Hills—that's in Washington ."
TG: Wasmuth says there is great potential in the US market, and his and other European companies are anticipating a huge boost in US sales in the coming years, though not everyone is convinced U-S companies are down for the count.
Pat Dinkel: "I think we're in a better position to respond to the market than those places."
TG: Pat Dinkel is the director of resource acquisition and renewable energy for Arizona's largest utility company, APS.
Dinkel: "We're in pretty decent shape..we've had the sort of planning and collaboration with utilities and governments that we've been able to stay ahead of the growth curb in the future."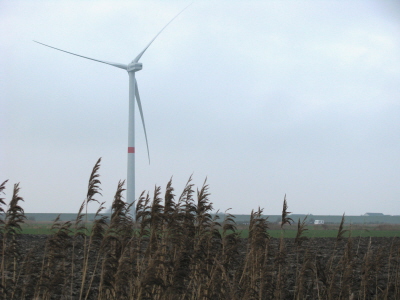 TG: Dinkel says the government will need to heavily subsidize major renewable energy projects if the industry is to grow to its potential. Though utilities like APS are working with many European renewable energy companies, the U-S does have strong renewable energy companies itself, like General Electric's energy division, and First Solar—an Arizona solar panel manufacturer that has made much of its money doing business in Germany. Ultimately though, Dinkel is convinced Arizona's abundant sunshine will give it an edge in the renewable energy market.
Dinkel: "We have a better resource than they do, and as we develop the technology and business we'll find we're way ahead of them. (European industry)"
TG: There's little doubt the potential of the U-S market exists, but observers on both sides of the Atlantic say there need to be more incentives and government support in renewable energy if the industry is to truly blossom. They say if German companies are to remain world leaders in renewable technology, they'll need to stay ahead of bigger American corporations preparing to compete for profits.
Tony Ganzer, Deutsche Welle Radio
German Renewable Firms…on Deutsche Welle