Following a sobering speech by US President Barack Obama, my colleagues at Westdeutscher Rundfunk wanted my analysis and impressions from Oslo. Here is the interview in German. Translation and transcription by Katie Ganzer also provided.
English translation below.
Moderator: Sehr geschmeidig. Der libanesische Sänger Jacques Minard hier in Funkhaus Europa. Wir kommen jetzt zu einem ganz anderen Herrn, der das Gegenteil von geschmeidig ist, wenn man ihm einen Preis verleiht, den er doof findet.
Nats: "Ich nehme diesen Preis nicht an!"
Mod: Genau, Herr Reich Ranicki, wenn Sie einen Problem mit Auszeichnungen haben, andere nehmen sie dankbar an. US-Präsident Obama, zum Beispiel, der hat heute den Friedensnobelpreis in Oslo entgegen genommen. Eine Nominierung, die ja von Anfang an umstritten war. Wofür bekommt er den Preis? Richtig was gerissen hat er ja noch nicht, ausser das er sich eine atomwaffenfreie Welt wünscht. Und dann ist er Präsident einer Nation, die in gleich zwei Kriegen mit mischt. Und gerade hat er noch mal 30.000 Soldaten nach Afghanistan geschickt. Tony Ganzer ist US-amerikaner Journalist. Zur Zeit Stipendiat in Deutschland, und er war heute live dabei in Oslo bei der Preisverleihung. Herr Ganzer, bei soviel Kritik, das war ja nicht ein ganz einfacher Auftritt für Obama heute in Oslo. Was hat er denn für einen Eindruck auf Sie gemacht, der Präsident?
TG: Ja, Präsident Obama hat sehr ehrlich gesprochen. Er sagte, dass um Frieden zu haben, man Verantwortung haben muss. Er wusste das diesen Friedenspreis zu bekommen mit noch viele Kriege, das ist sehr kommisch. Und als Amerikaner, ehrlich gesagt, fühlte ich mich natürlich stolz, einerseits, aber anderseits fühlte ich mich noch irritiert. Ich weiß nicht warum Obama hat diesen Preis gewonnen, und akzeptiert.
Mod: Sie haben gerade selber gesagt, als US-Amerikaner persönlich sind Sie einerseits stolz, andererseits auch ein bisschen irritiert. Was glauben Sie, wie geht's denn heute Ihren Landsleuten, wenn ihr Präsident den Nobelpreis bekommt?
TG: Ich glaube alle Amerikaner sind ein bisschen irritiert. Wir wissen noch nicht, was Obama macht recht ist, und er hat so viele Themen, die er sich beschäftigt ist. Wir haben Health Care, natürlich, und die Wirtschaft, die schlechte Wirtschaft, die Kriege, und Obama hat es alles versucht, etwas zu erschaffen, etwas zu lösen. Und die Amerikaner wissen nicht, ob er erfolgreich wird. Also wir wissen nicht was in Zukunft kommen wird.
Mod: Ist US-Präsident Obama heute in seiner Dankesrede auf diese ganze Kritik im Vorfeld eingegangen? Hat er darauf Bezug genommen?
TG: Ja, ja, er hat direkt zu diesen Kritik gesprochen, und er sagte, dass er wüsste dass vielleicht es gab jemand, der diesen Preis…
Mod: …mehr verdient hätte?
TG: Ja, genau. Aber er hat es, und er arbeitet noch etwas hoffnungsvoll zu erschaffen.
Mod: Was haben Sie denn für einen Eindruck gehabt, wie sind denn seine Worte in seiner Dankesrede angekommen, beim Publikum?
TG: Es ist nicht einfach. Der Präsident muss immer sehr vorsichtig sein. Er kann nichts so Blödes sagen, wenn wir mehr Probleme bekommen, glaube ich, so ich war nicht überraschend, aber ich dachte es war gut, dass der Präsident so vorsichtig war. Sehr klug.
Mod: Haben Sie denn was von den Demostrationen und Demonstranten mitbekommen, ja, die sich gegen die Verleihung des Friedennobelpreises an Obama gerichtet haben?
TG: Ja, bisher habe ich nur Posters gesehen, ein Luftballoon mit "Stop Climate Change" darauf geschrieben, aber später, ich habe es gehört, dass 5.000 Leute wird auf der Straße protestieren. So, mal sehen. Ich werde da sein, und mal sehen, was passiert.
Moderator: Tony Ganzer ist US-amerikanischer Journalist. Er war heute dabei in Oslo als US-Präsident Obama den Friedensnobelpreis überreicht bekommen hat. Vielen herzlichen Dank.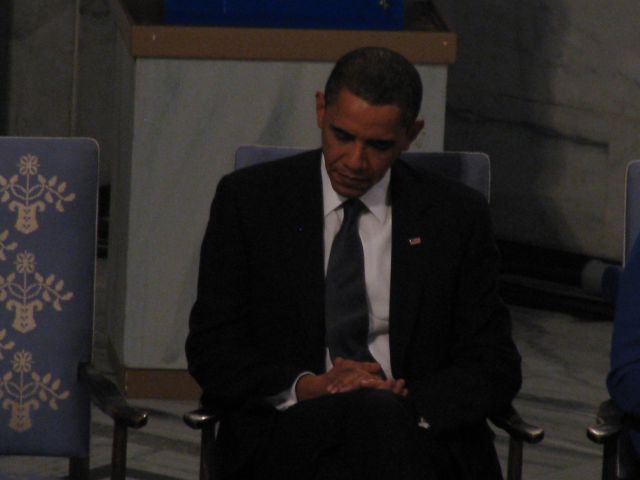 Host: Very smooth. The libyan singer Jacques Minard here in Funkhaus Europa. We come now to another gentleman, who is the opposite of smooth, when he is awarded a prize he finds stupid.
Nats: "I do not accept this prize!"
Host: Exactly, Mr. Reich Ranicki, if you have a problem with awards, others accept them thankfully. US President Obama, for example, he accepted the Nobel Peace Prize in Oslo. A nomination which has certainly been controversial from the beginning. Why does he get the prize? He hasn't really done anything, except hope for a world free of nuclear weapons. On top of that, he is the president of a nation which is mixed up in two wars. Plus, he just sent another 30,000 troops to Afghanistan. Tony Ganzer is an American journalist. He is currently on a fellowship in Germany, and was there today, live at the ceremony. Mr. Ganzer, with so much criticism, das certainly wasn't an easy appearance for Obama today in Oslo. What kind of impression did he make on you, the president?
TG: Well, President Obama spoke very honestly. He said that in order to have peace, one must have responsibility. He knew that it is strange to receive the peace prize with so many wars. And as an American, honestly, I felt proud on one hand, but on the other hand, I was a little confused. I don't know why he won the prize or accepted it.
Host: You said yourself just now that personally, as an American, you are proud on the one hand, but also a little confused on the other hand. How do you think your fellow citizens are feeling, as their president receives the prize?
TG: I think all Americans are a little confused. We don't know yet, if what Obama is doing is good, and he is busy with so many issues. We have health care, of course, and the economy, the bad economy, the wars…. Obama has tried to do something for everything, to solve problems, and Americans don't know if he will be successful, so we don't know what will happen in the future.
Host: Did US President Obama address the criticism in the foreground in his acceptance speech?
TG: Well, yes, he spoke directly to the criticism, and he said that he knew there might have been someone else who…
Host: may have earned it more?
TG: Yes, exactly. But he has it, and he is still working to achieve something hopeful.
Host: What kind of impression do you have of how the words in his acceptance speech were received by the audience?
TG: It isn't simple. The president must always be careful. He can't say anything stupid and create more problems, I believe, so I was not surprised. But I thought it was good that the president was so careful. Very smart.
Host: Have you seen any of the protests and protestors who are speaking out against the prize having been awarded to Obama?
TG: Well, so far I have only seen posters, and a hot air balloon with "Stop Climate Change" written on it, but later, I heard that 5,000 people will be protesting in the streets. So, we will see. I will be there, and we'll see what happens.
Host: Tony Ganzer is an American journalist. He was there today in Oslo as US president Obama accepted the Nobel Peace Prize. Thank you very much.