Language is always a sticking point in the German immigration debate. Many times politicians say immigrants need to learn better German, to fully integrate. But not all foreigners are told this. Entertainers, for example, seem to have a special status in German society, and imperfections are part of the charm. This feature was produced in German for Westdeutscher Rundfunk. Translation provided by Katie Ganzer.
English translation below
Moderator: "Zwischen Ruhr und Bosporus", darüber schreiben Schüler aus sieben Nationen derzeit in Duisburg. Sie haben es gerade bei uns gehört in den WDR3 Resonanzen im perfekten Deutsch, sodass es im nächsten Jahr veröffentlicht wird. Längst in der Sprache heimisch sind sie geworden, könnte dazu man sagen, und ist etwas, was von konservativen Kreisen immer als Hauptindiz für Integration ins Feld geführt wird. Really? Hat sich dazu Anthony Ganzer Gedanken gemacht und hat sich gefragt als das hörte. Der US-amerikanischer Journalist, der seit einem Monat Gast in den WDR3 Resonanzen ist. Das ist also so, wenn man die Sprache perfekt beherrscht, dann ist man integriert in Deutschland, und wenn nicht, dann ist man nicht anerkannt? Nur wer perfekt spricht ist integriert, wird respektiert? Die Sprache also als Hindernis für Anerkennung? Schwer genug ist Deutsch ja schon, auch für die jene, die es nicht beim nuken an der Muttermilch gehört haben.
TG: Doch nicht alle Einwanderer oder in Deutschland arbeitenden Ausländer haben dieselbe Probleme. Fernsehen-Stars und Sternchen zum Beispiel haben einen anderen, einen besonderen Status. Obwohl ihr Deutsch nicht immer perfekt ist, ist eine Karriere im deutschen Fernsehen durchaus drin.
Otön, blenden: Chris Howland singt "1, 2, 3, 4, 5 wo ist meine Braut geblieben"
TG: Hier singt der Engländer Chris Howland. In den 1960er Jahren war der Schlagersänger, Fernseh und Radiomoderator eine feste Größe in der deutschen Unterhaltungsbranche. Das Publikum liebte ihn, seinen britischen Akzent, seine krächzende Stimme. Unvergessen seine Moderationen rund um die internationale Musikszene in der legendären Sendung "Musik aus Studio B." Auch Heute finden sich im deutschen Fernseher Stars, die kein perfektes Deutsch sprechen. So wie der Amerikaner Bruce Darnell. Er machte in Heidi Klums "Germany's Next Top Model" von sich reden:
O-Tön, blenden: Bruce Darnell "Ich freue mich sehr, weil das war nur der Einfach. Die Mädchen denken immer noch viel zu nach. Wir sind jetzt in Bankok. Let yourself go. Entweder jetzt oder nie."
TG: Auch bei Darnell wirkten sich Akzent und sprachliche Unkorrektheiten, die inzwischen einen gewissen Kultstatus erreicht haben, nicht hinderlich auf eine Karriere aus. In der Fernsehshow "Supertalent" dem deutschen Pendant einer amerikanischen Castingshow, ist er erfolgreiches Jurymitglied. Und seit Neuestem ist Darnell auch mit einem eigenen Parfum auf dem Markt.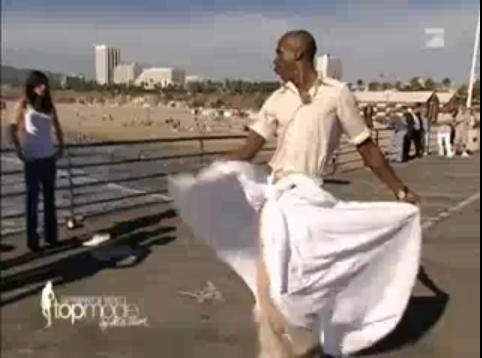 TG: Wie kommt es also, dass einige Leute in Deutschland recht erfolgreich sein können, obwohl sie kein perfektes Deutsch sprechen?
Professor Doktor Ulrich Schmidt-Denter: "Man sieht daran eigentlich schon, dass die Deutschen nicht dieselbe Sprachsensibilität wie zum Beispiel die Franzosen haben, wo ist es vielleicht undenkbar, dass einer von denen nicht perfektes Französich spricht."
TG: Professor Ulrich Schmidt-Denter ist Psychologue an der Universität Köln. Seiner Meinung nach falle es der deutschen Gesellschaft allem Anschein nach leichter, Einwanderer zu akzeptieren, die bereits eine gewisse Popularität durch die Medien haben. Der Status, den ihnen die Medien verleihen, nivelliert unzureichende Deutschkenntnisse anscheinend. Medienstars wird ein anderer Status eingeräumt: Entertainment gilt als etwas nicht so Wichtiges.
TG: Für die Bereiche Arbeit und Schule aber, so Schmidt-Denter, ist das Thema Sprachkompetenz und die daraus resultierende Anerkennung von Migranten von maßgeblicher Bedeutung. Er und sein Team befassten sich in einem Forschungsprojekt mit der personalen und sozialen Identität der Europäer – insbesondere der Deutschen. Die Sprache spielt eine wichtige Rolle im Zusammenhang mit der Identität. Nicht nur für den Einzelnen:
Schmidt-Denter: "… wenn man bedenkt, dass ich etwa mein Kind in eine Schulklasse schicken soll, in der etwa 30-50 Prozent Immigranten sind, die gar nicht Deutsch können. Dann muss man nicht besonders sprachsensibel zu sein, um das nicht zu wollen, weil man weiß, es kann nicht funktionieren."
TG: Unzureichende oder gar schlechte Sprachkenntnisse, so Schmidt-Denter, in der Schule oder am Arbeitsplatz sorgen für erhebliche Probleme. Sprechen zu viele Mitarbeiter kein korrektes Deutsch, dann leiden Kommunikation und Kooperation untereinander.
TG: Ganz anders funktioniert die Welt des Entertainments oder die des Internationalen Fußballs. Hier lassen sich unterschiedliche Sprach-Niveaus schon leichter überbrücken.Wenn die Show erst einmal läuft, wie einst bei Giovanni Trapattoni, dem ehemaligen Fußballtrainer des FC Bayern München, dann lässt sich mit einem "interessanten" Sprachstil, durchaus ein besonderer Platz in den Herzen der Deutschen erobern.
Oton: Trapattoni: Ich habe immer die Schulde über diese Spieler … Ich habe fertig.
Host: "Between the Ruhr and the Bosporus" is the topic about which school children from seven nations are writing in Duisburg. You heard it just now here in WDR3 Resonanzen in perfect German, as it will be published next year. They have long grown into the language, you could say, and it's something that those in conservative circles often call upon as a main benchmark of integration. Really? Thought Anthony Ganzer, and asked himself as he heard that. The American journalist has been a guest with the WDR3 Resonanzen for the last month. So that's how it is, that those who have perfectly mastered the language are integrated in Germany, and those who haven't are not recognized? Only those who speak perfectly are integrated and respected? The language is thus a hindrance to recognition? German is certainly difficult enough, and also for those who did already hear it in the cradle.
TG: But not all Immigrants or foreigners working in Germany have the same problem. Television stars and starlets, for example, have a different and special status. Even it their German skills are not always perfect, a career in German television is a definite possibility.
Nats: Chris Howland singing "1, 2, 3, 4, 5, wo ist meine Braut geblieben"
TG: This is Chris Howland. As a folk singer, and television and radio host, he had a big name in German entertainment in the 1960s. The audience loved him, his British accent, his smoky voice. Not to forget his stint hosting the legendary "Musik aus Studio B," a show about the international music scene. Even today one finds stars in German television who don't speak perfect German, such as the American, Bruce Darnell. In Heidi Klum's "Germany's Next Top Model" he once said:
Nats: Bruce Darnell (with heavy accent): "I am very happy, for that was only the simple one. The girls are still thinking too much. We are in Bangkok now. Let yourself go. Either now or never."
TG: Also in Darnell's case, accent and linguistic mistakes, which have now reached cult status, do not negatively impact his career. In the television show "Supertalent", the German version of an American casting show, he is a successful judge. Darnell has even recently started marketing his own perfume.
TG: So, how is it possible for some people to be successful in Germany, even though they don't speak perfect German?
Dr. Ulrich Schmidt-Denter: "You really can see in this that the Germans don't have the same language sensitivity as the French, for example, where it is probably unthinkable for one of them to not speak perfect French."
TG: Professor Ulrich Schmidt-Denter is a psychologist at the University of Cologne. In his opinion, it is easier for German society to accept Immigrants who have already achieved a certain level of popularity in the media. The status bestowed on them by the media seems to even out insufficient German skills. A different status is formed for media stars, in that entertainment is not considered very important.
TG: For work and school, though, according to Schmidt-Denter, the subject of linguistic ability and the resulting recognition of migrants is much more significant. He and his team carried out a research project in which they studied the personal and social identity of Europeans, especially Germans. Language plays an important role in relation to identity, and not only on a case-by-case basis.
Schmidt-Denter: "… when one thinks that I should send my child to school in a class made up of 30-50 percent immigrants who speak no German. You don't need to be particularly sensitive linguistically to not want that, because you know it can't work."
TG: According to Schmidt-Denter, insufficient or simply bad language ability at school or at work causes significant problems. If not enough employees speak correct German, communication and cooperation suffer.
TG: It works completely differently in the world of entertainment or the world of international soccer. There, various language levels are easier to bridge. Once the show has started, as in the case of Giovanni Trapattoni, the former soccer coach of FC Bayern Muenchen, then a "interesting" linguistic style can help in conquering a special place in the hearts of the Germans.
Nats: Trapattoni: "I always have the guilts over these players…. I have finish."