With a struggling economy, it seems people are tightening belts and rethinking budget plans.  Lawmakers and city leaders are still trying to hash out exactly how to deal with budget shortfalls, and more Arizonans are trying to weather the storm with a state unemployment rate of nearly 7 percent.  The push for fiscal prudence has also made it to Arizona's independent and private schools, though so far those schools are fairing well..  KJZZ's Tony Ganzer reports.
TG:  In a down economy many families might be looking to cut high-cost items from budgets.
(Nats kids playing)
TG: But some of Arizona's independent and private schools say their operations are remaining high on their parents' priority lists, despite tougher financial times.
MICHELLE BORIE: "Definitely the financial future is uncertain and it is concerning, however we are optimistic.  We do think our program has a lot of value.  We do think there are people out there who will value what we have to offer, and that they would be willing to pay that tuition to have that for their children."
TG:  Michelle Borie is the director of the International School of Arizona, a language immersion school in Scottsdale.  Kids from two years old, through fifth grade, spend two-thirds of the day speaking either Spanish or French, and the other part of the day speaking English.
BORIE:  "Our tuition ranges from $6k to $10k depending on the number of days of attendance for preschool or elementary.  But a lot of our after school programs and summer camps are highly price competitive."
TG:  Borie says the economic downturn so far hasn't led parents to pull their children from the school. She adds though some families are well off, most of her clientele aren't the typical private school families.
BORIE:  "They sacrifice a lot to send their children here.  If they didn't go to school here they would probably be in the public school system.  Our families do value education to a high degree and I think even though the economic situation is tough, they will continue to keep their kids in our school."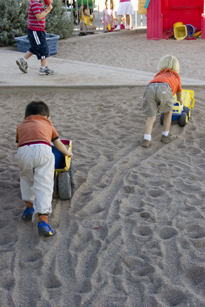 TG:  Many of these parents are choosing to tighten belts in other places, and Borie says these families are relying ever more heavily on Arizona's investment tax credit, which allows Arizonans to send tax money to private or independent schools, instead of public schools.  But with the state facing a multi-billion dollar budget shortfall, some lawmakers are calling for the school tax credit program to be suspended.  They argue money should help keep the public school system solvent, before funding other options.
(Nats of band playing, gas generator running)
TG:  During a rally outside the state capitol last month, Catholic school students gathered to express support for the state's tax credit program.  Paul Mulligan is the executive director of the Catholic Tuition Organization of Phoenix.
MULLIGAN:  "We're still very much—if you go around and took a survey of these school communities—you're going to see very much a working class kind of family.  In fact that's really where the squeeze is right now where these tax credit scholarships are so important, because a lot of those families have simply not been able to keep up with tuition.  We had 10% more applicants based on financial need to our organization than we did in the previous year. I expect when we take the applications in starting again this April we're going to see the same kind of increase."
TG:  Mulligan says high school tuition through Catholic schools costs anywhere from 7 to 12 thousand dollars, and about half of the systems 15 thousand students received financial help.  Despite the high costs, many educators in the private and independent schooling system think the product is key. They say high graduation rates and the numbers of students going on to higher education show private schooling is worth the added money, and a better option than public schooling.
NIGEL TAPLIN:  "That's a family decision and family finances."
TG:  Nigel Taplin is the President of the Arizona Association of Independent schools.  He's also the head of the independent Tesseract School, a KJZZ underwriter.
TAPLIN:  "I think the families will step back and say, 'Well, what's important in life?' And: Health, and education and safety. And families know that they have a choice in this state.  Just like the other schools in the Arizona Association of Independent Schools we're all cautiously optimistic."
TG:  Taplin says independent schools are considering plans of action for the current economic times, including raising tuition.  But he maintains Even in a down economy,  educators in public and private institutions should keep focus on what's best for children.
For KJZZ I'm Tony Ganzer