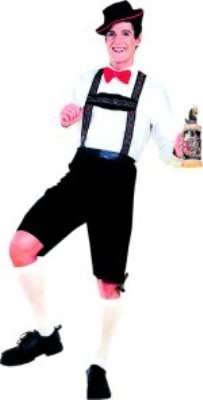 When most Americans think of Germany an image of a Bavarian probably comes to mind–Lederhosen, beer, funny hats…but that is not always the case, even for actual Bavarians. I produced this piece trying to find the truth of Bavarians with tongue planted firmly in cheek. It aired on Bayerischer Rundfunk (BR1.)
English translation below
TG: In den USA sind München und Bayern für Lederhosen, Oktoberfest und Bier bekannt. Nur das. Viele Amerikaner glauben, dass alle Bayer, Münchner, Deutsche..dass wahrscheinlich alle Europaer Lederhosen tragen, und dass jeder Tag sowie Oktoberfest ist. Ehrlich gesagt, glaube ich, das darf nicht alles sein. München hat viel mehr als Bier und Oktoberfest. Es hat auch FC Bayern-München, zum Beispiel, und das ist unglaublich wichtig.
TG: Also hier am Anfang meiner Zeit als Gastjournalist bei Bayerischer Rundfunk will ich, mit Hintergedanken, die Wahrheit finden. Haben alle Münchener Lederhosen oder Dirndl, und trinken Sie immer Bier?
TG: Sowie ein Journalist es machen soll, gehe ich in die Stadt, um Antworten zu finden. Bald finde ich Daniel Welte, der Besitzer eines großen Trachtenladens.
WELTE: "Das Wort Bayerisch bedeutet jetzt für mich Bier, Schwein braten und Lederhosen."
TG: Ich habe diese Antwort nicht erwartet—das ist, genauso was die Amerikaner denken. Aber Welte scheint mir als Profi—er trägt Lederhosen und hat einen großen Schnurrbart, zwei Sachen Münchener brauchen, so die amerikanische Ansicht. Leider ist Welte kein echter Münchener..er ist Österreicher aus Bregenz. Aber es ist ja klar, Trachten und Bier sind bei ihm beliebt, aber ich frage mich…muss Lederhosen, Bier und Wurst immer zusammen genommen sein?.
WELTE: "Ich als gelernte Koch weiß, Wurst ist gleich mit oder ohne Lederhosen. Nur wenn man in bayerischen Lokal ist, oder Oktoberfest ist, wenn man hat den Tracht an, benimmt man sich ganz anders, man ist ganz anders, und man ist von den anderen anders angenommen."
Atmo: Marienplatz…nur Geräusche
TG: Nach meinem Gespräch am Trachtenladen gehe ich zum Marienplatz, um eine andere Meinung zu finden. Ich sehe keine mit Lederhosen.
DIETRICH: "Das ist immer gut hält. Ein Münchener wird ganz selten irgendwo hingehen."
TG: Das ist Albert Dietrich, Leiter der Stadtinformation im Rathaus München. So sein Akzent es zeigt, er kommt aus Bayern, und ich denke, Marienplatz muss etwas Besonderes für Münchener sein. Aber Dietrich sagt, ich bin Falsch.
DIETRICH: "Im Enteffekt, da muss mal sich in einem Dorf hereinsitzen. Dieses Hofbrauhaus, oder Marienplatz bringt gar nichts."
TG: Nach eine kurze Zeit in München weiß ich, dass man München und Bayern nicht in eine Schublade stecken kann. Es gibt hier ja Trachtenshops, und Brauhäuser, aber die Einheimische sind nicht immer da, und die echte Münchener sind schon fast ausgestorben. Münchener spielen nicht immer Fußball während sie Lederhosen tragen. Sie trinken noch Kaffee morgens, anstatt nur Bier. Und jetzt weiß ich, täglich tragen die Münchener keine Filzhüte, um sehr produktiv zu sein.
TG: Ich bin sicher, während meiner Zeit in München, ich werde viel mehr über diese Region lernen. Aber ehrlich gesagt, meisten der Amerikaner werden es nicht glauben.
TG: In the U.S. Munich and Bavaria are known for Lederhosen, Oktoberfest and beer. That's all. Many Americans think every Bavarian, Munich-native, German—heck, that probably all Europeans wear Lederhosen and that every day is just like Oktoberfest. Honestly, I don't think that is the whole story. Munich has much more than just beer and Oktoberfest. It also has (the soccer team) FC Bayern-München, for example, and that is unbelievably important.
TG: So here at the beginning of my time as guest journalist with Bayerischer Rundfunk I want, with tongue firmly planted in cheek, to find the truth. Do all Munich-natives wear Lederhosen or Dirndls, and do they always drink beer?
TG: Like any good journalist should do it, I go into the city to find answers. Soon I find Daniel Welte who owns a big shop for traditional Bavarian goods.
WELTE: "The word Bavarian for me means beer, pork sausage and Lederhosen."
TG: Ok…I did not expect this answer—that is exactly what Americans think. But Welte looks like a professional to me—he is wearing Lederhosen and has a big mustache, two things Munich-natives need, at least according to the American view. But unfortunately Welte isn't a real Munich-native—he is an Austrian from Bregenz. Even so, it is clear tradition and beer are cherished by him…though I wonder, must Lederhosen, beer and wurst always be taken together?
WELTE: "As a trained cook I can tell you wurst is the same with or without Lederhosen. But when someone eats at a local Bavarian restaurant, or at Oktoberfest, and that person has on traditional clothes, people react differently, the person acts differently, and the person is seen in a different light."
NATS: sounds from Marienplatz, Munich
TG: After my talk at the clothing store I head to Marienplatz to find a different opinion. I don't see anyone in Lederhosen.
DIETRICH: "People always think that, but a real Munich-native seldom goes anywhere in Lederhosen."
TG: That is Albert Dietrich, the head of the city information office in Munich's town hall. His accent clearly shows he comes from Bavaria, and I think, Marienplatz must hold something special for natives. But Dietrich tells me I am very wrong.
DIETRICH: "Ultimately a person needs to go to a village (to experience local culture.) The (tourist-filled) Hofbrauhaus or Marienplatz offer nothing at all."
TG: After a short time in Munich I know that people in Munich and Bayern can't be easily pigeon-holed. There are shops for traditional clothing, or beer halls, but the locals are not always there, and true Munich-natives are a dying breed. Munich-natives don't play soccer while wearing Lederhosen. They still drink coffee in the morning, instead of just a pint of beer. And now I know for sure, natives don't wear traditional felt caps to be more productive.
I am sure I will learn much more about the region during my time here, but honestly, I don't think most Americans will believe what I tell them.
A more serious look at Bavaria