When the clock hits 11:11 on the 11 of November, Cologne becomes a party city, and costumed party-goers lose nearly all inhibitions until they drop. I ventured into the crowds and produced a short report with observations and musings from the belly of the beast. One thing was clear…there was much I had never seen nor experienced before. The report was spontaneous and impromptu, though still hopefully understandable.
**Translation provided by Katie Ganzer.
English translation below
WDR3 Moderator: So eine Hospitanz hier in der Resonanzen Redaktion ist nicht ganz ungefährlich. Das musste heute Tony Ganzer aus den USA am eigenen Leibe erfahren. Tony ist insgesamt für vier Wochen Hospitant oder Gastjournalist bei den Resonanzen, und heute morgen hatten wir hier in der Redaktion die tolle Idee den armen Tony doch mal kurz runter zu schicken auf den vom WDR Funkhaus gerade mal 500m entfernten Heumarkt, wo heute um 11:11 die Kölner Karnevalsaison 2009-2010 eröffnet wurde. Ein unbeschuldener Amerikaner aus dem Wüstenstaat Arizona mitten unter Jecken. Hier ist sein Erfahrungsbericht.
TG: Ich bin Tony Ganzer, ich bin amerikanischer Gastjournalist bei WDR 3, und ich stehe hier in der Nähe von Heumarkt vor einer kleine Bühne; es ist nicht so Wahnsinn als die große Bühne bei Heumarkt. Ich habe etwas so Ähnliches niemals in meinem Leben geshen. In den USA haben wir etwas Ähnliches mit Mardi Gras in New Orleans, das ist eine große Feiern an der Straße, wo so viele Leute trinken. Aber ich bin ein bisschen überrascht, dass so viele Leute betrunken sind vor Mittag heute. Das habe ich niemals gesehen. Und viele Verkleidungen: ich habe Bären gesehen, und Löwen, und Super Mario Brothers, das fand ich sehr toll von einem Computerspiel.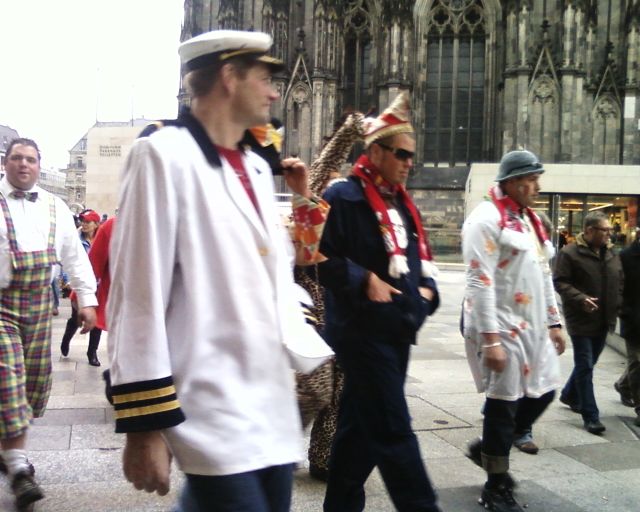 ("Viva Colonia")
TG: Nur ein bisschen weit weg von wo ich vorher aufgenommen habe, und ich habe etwas noch Interessantes gesehen. Ein Löwe war verhaftet – das habe ich niemals gesehen. Vier Polizisten auf einem Löwe auf der Straße, und es ist nur um gegen 13 Uhr, oder was. Das finde ich sehr seltsam, aber… ja, ich bin nur Amerikaner, so vielleicht wenn ich Deutscher wäre, würde ich alles verstehen."
Ein kleiner Selbstversuch won unserem amerikanischen Resonanzen Hospitanten Tony Ganzer, dem immer noch der kalte Schweiß auf dem Stirn steht. Er war mal ganz kurz unten auf dem Heumarkt, wo heute um 11:11 die Kölner Karnevalssaison eröffnet wurde. Und nach diesem nicht ganz ungefährlichen Job für die Resonanzen freut sich Tony Ganzer schon wenn sein Praktikum in ein paar Tagen hier vorbei ist, und er dann zu den etwas zivilisierteren Kollegen von Funkhaus Europa wechselt.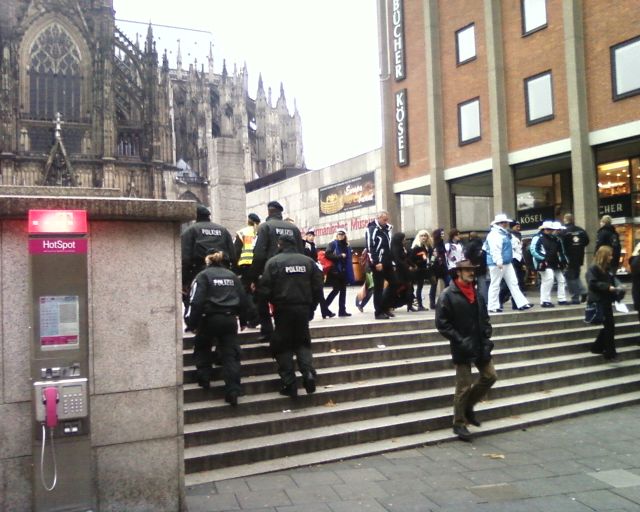 WDR3 Host: As it turns out, a guest placement at the Resonanz station is not the least dangerous occupation, and American Tony Ganzer had to discover that the hard way. Tony has been placed at Resonanz as an observer or guest journalist for a total of four weeks, and this morning in the news room, we came up a fun idea to briefly send poor Tony down to Heumarkt. It's just barely 500 meters away from the WDR broadcasting center, but that's where the 2009-2010 Cologne Karneval season was officially opened at 11:11 today. An innocent American from Arizona, surrounded by Cologne's typically wild Karneval participants. Here is his report.
TG: I am Tony Ganzer, I am a guest journalist at WDR3, and I am standing near Heumarkt, in front of a small stage, where it isn't quite as crazy as the big stage at Heumarkt. I have never seen anything like this in my life. In the USA we have something similar with Mardi Gras in New Orleans; that is a big party in the street, where many people drink. But I am a little surprised that so many people are drunk before noon today. I have never seen that before. And many costumes: I saw bears, and lions, and Super Mario Brothers – I thought that was awesome, from the computer game. (Video game)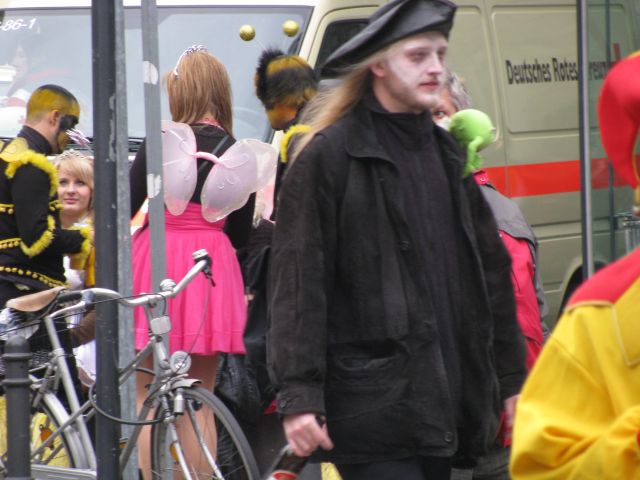 (Dat es prima! Viva Colonia! Wir lieben das Leben, die Liebe… That is fantastic! Viva Colonia! We love life, love…)
TG: Only a short distance from where I previously recorded, and I saw something else interesting. A lion was arrested – I've never seen that! Four police officers on top of a lion in the street, and it's only about 1 pm or so. I find that strange, but I am just an American–maybe if I were German I would understand everything.
A small essay from our American Resonanz guest Tony Ganzer, who is still reeling from the experience. He briefly went down to Heumarkt, where the Cologne Karneval season was opened today at 11:11. And after this slightly risky job for Resonanz, he is looking forward to the end of his placement here in a few days, when he will move over to our somewhat more civilized colleagues at Funkhaus Europa.