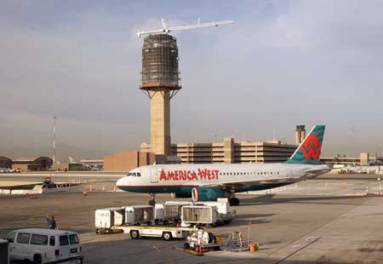 Kirby: "It's been a challenging year, a lot of good things have happened, we've had our fair share of challenges. We've found merging two airlines is complex and difficult."
TG: It's now been two years since, on paper, US Airways and America West merged in 2005, though seamless is not a word to describe how things in practice have gone.
Kirby: "The operation for us bottomed out in March of this year when we went through the Res migration. I wish we could do over, and do better than we did, but it happened and all we could do was work hard to fix it. We've taken a number of steps to fix it including hiring more employees, putting more spares into the system."
TG: Kirby there is referring to the integration of the reservation systems of the two airlines which just did not work as planned and caused system-wide disturbances especially on the East Coast. The merged line also had continued issues with lost baggage and mirrored Sky Harbor's record of frequent flight delays.
Kirby: "We had a rough summer. I think we're coming out of that, the statistics show we're coming out of that. And we look forward to finishing all of the integration and just back to running an airline instead of trying to combine two airlines."
TG: Kirby is quick to admit his airline's problems, and says he's happy to say US Airways is improving, though it still has work to do. Some of that work will undoubtedly be talks with pilots, who have yet to reach a joint contract agreement.
For KJZZ, I'm Tony Ganzer.