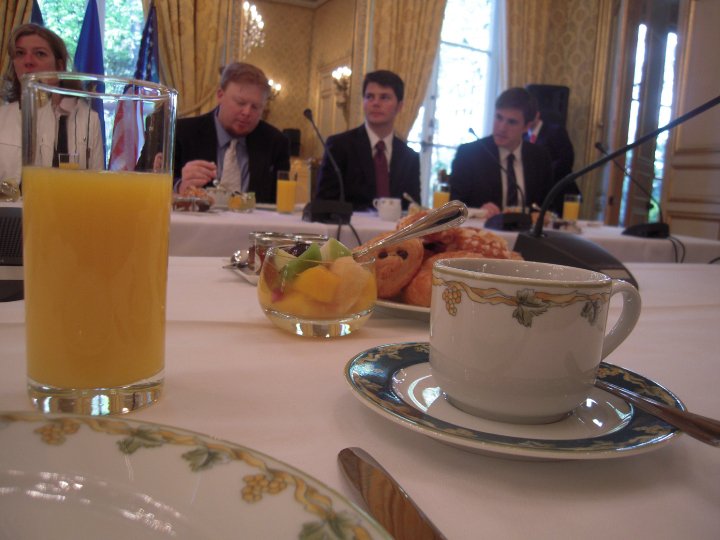 Your correspondent (center left) enjoys fruit and pastries with the French minister of immigration. (not pictured)
(Photo: Aurelia Figueroa)
It has been a fascinating year as a Bosch fellow in terms of group dynamics.  I was told before the fellowship began that journalists tended to be chosen to spice the group up a bit and keep things interesting.  During Bosch meetings with policy makers, journalists, politicians, etc I didn't really remember that I was supposed to "spice things up." 
It just sort of happened naturally.
As part of the fellowship year I was lucky enough to participate in seminars–trips to various European cities to meet with important folks and talk about important issues.  "Meeting" with important folks in this sense means being able to ask questions (off-the-record if necessary) to gain an honest evaluation of energy policy, security issues, or a host of other topics.
Asking questions is what I do.  A journalist is trained to ask about and then relay ideas, all the while being protected by the idea that a journalist is not being malicious, but just asking questions that should be asked for a greater understanding of … whatever.  So long as the journalist doesn't become overzealous or begin personal attacks, the relationship between journalist and subject remains intact.
The longer I work as a journalist, the easier it becomes to ask uncomfortable questions in a respectful way–something other fellows didn't always understand.  Journalism is not "gotcha journalism."  A journalist's sole purpose in life is not to pin an interviewee to the wall and pick them apart…maliciously.  On the contrary, a journalist's aim (ideally) should be to find the truth.  If the truth turns out to show a politician is a dirt bag, so be it.  If the opposite is true, and rumors of said politician being a dirt bag are false, then the defamation is the story, and the politician should rightfully be cleared.
To some people this idea is hard to swallow.  After all, a journalist just wants a scoop and wants to tear people down, right?  No.  On one seminar trip to Warsaw in early 2010 I was confronted by another fellow after a meeting with a Polish journalist.  I asked the journalist about Poland's standing and reputation in the world.  I asked: "After the reign of the twins (the Kaczynski brothers who held the two top political posts simultaneously) Polish politics were seen mainly as a joke.  Many publications criticized the leaders.  How do you think Poland needs to sell itself to the international community, to show it is still relevant in the modern world?"
The Polish journalist laughed and took the question in stride–as I expected–but some of my colleagues (non-journalists) were offended.  I was too direct, they complained behind my back.  And only one fellow came to me to ask why I was so aggressive in my questioning.  This was not an interrogation.  I wasn't there for a story.  
"Well…I was curious."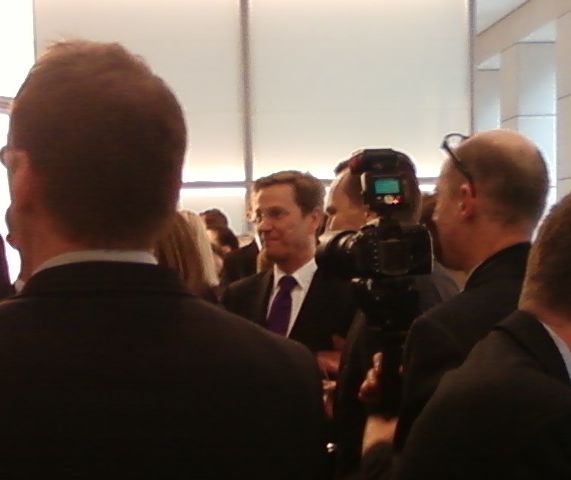 German foreign minister Guido Westerwelle at the Arthur F. Burns journalism fellowship alumni dinner.
There are times and places for playing "hardball" with interview subjects, but these seminars are neither, and in my opinion I did not go for the jugular.  There are many situations when asking a hard question is uncomfortable, but both you (the journalist) and the interview subject expect the question.  I interviewed the president of US Airways, Scott Kirby, and had to ask about it being rated the worst in on-time performance and passenger complaints.  To Kirby's credit he admitted the airline was not doing as well as it should, and then he laid out plans to improve.  Fair enough.
Going from a group where I was the minority, to a group made up entirely of journalists was shocking and refreshing.  At the annual Berlin meeting of the Arthur Burns journalism alumni, keynote speaker Radoslaw Sikorski (Polish foreign minister) spoke about the need for more foreign correspondents in the world…he then opened the floor for questions.
"You mentioned you used to be a journalist in Afghanistan in the 80s," an editor for Die Welt newspaper began.  "But some people think you were really fighting against the Russians.  Would you tell us what you were actually doing in Afghanistan?"
That is a direct question.  That is a question I probably would not ask…at least not without proof of something contradicting the record.  After this question and others I thought to myself…"Wow.  I guess I truly am among my kind, again."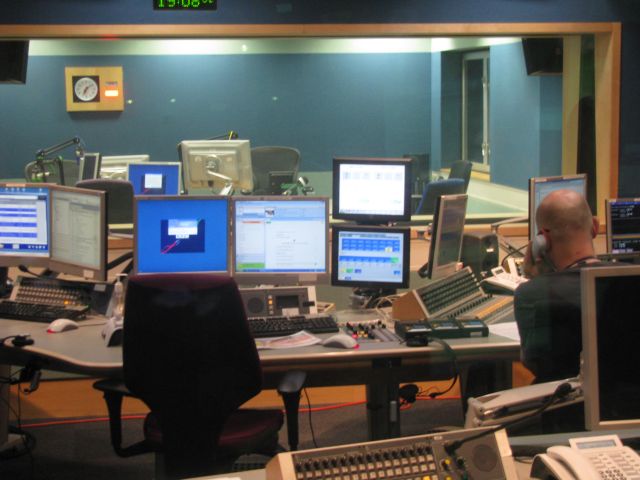 BBC studio in London
There are some in this industry who live for the scoop.  There are some who love to make people squirm with uncomfortable questions.  Some people even want to see others unhappy, and thus aim to personally injure someone through reporting.  Fortunately I think these people are still in a vast minority in journalism.
But with opinion creeping faster and faster into the regular news intake of regular hockey, soccer or t-ball moms and dads, the more the world needs just plain journalists: the ones who check their facts, ask tough but fair questions, and always try to tell an honest and accurate story.  
There is absolutely nothing wrong with tough questions as long as there is a newsworthy reason for asking them.  There is something wrong with passing up an opportunity to learn something from some of the most powerful and visible people in this world. 
Transparency is, more often than not, the best policy.