Editor's Note:  This is another in a series of sound-rich portraits of European cities and sites.  In this episode, I try to capture the feel of an Alpine town relying on nature's beauty and a fiction writer's legacy to offer a unique and worthwhile experience.
(Music: Schiller – "Sehnsucht")
It is amazing how the definition of 2-hours can change with perspective. From Phoenix 2-hours meant a visit to Tucson, or the middle of the desert. But from our base in Zurich 2-hours could mean crossing into another country…or even better: 2-hours means snaking through Alpine valleys, and resting in the shadows of peaks named Pilatus or Wetterhorn. Here is my trip to Meiringen.
This is the Aare—one of Switzerland's major rivers which dissects the Alps, as well as Meiringen and the capital Bern. This part of the world is a haven for mountaineers of all backgrounds and skills, who master mounds of rock and enjoy views fit for adventurers and angels.
But water is what speaks to me. The Aare and the surrounding lakes here are not blue or brown—rather a subtle green. The flowing, melted Alpine ice is as fresh and clean as legends proclaim.
Meiringen is like any small town—life revolves around the city center: the grocery store, the train station. Only about 4500 people live here. There are bicycles everywhere, and a fair amount of tourists. The town seems sleepy most of the time, interrupted every so often by rumbling fighter jets from the nearby airfield.
Along with claiming to be the birth place for the dessert Meringue, this town has embraced deeply its role in fiction. Arthur Conan Doyle set an epic battle between Sherlock Holmes and Moriarty near Meiringen, at Reichenbach Falls.
Reichenbach is only one of the many waterfalls adorning the valley's walls. To get there one needs to head to Willigen, just a few minutes from Meiringen. There you can find the cable car up the mountain.
The car's pilot secures the doors, and releases the mechanism pulling one car down the mountain, and another one up it.
The air is crisp—cold, but clean. The fantastic views only become better with altitude. Peaks multiply. 2-dimensional mountains now have depth, color, life. And then the cable car slows, and the sound of its steel wheels is drowned-out by a more powerful force.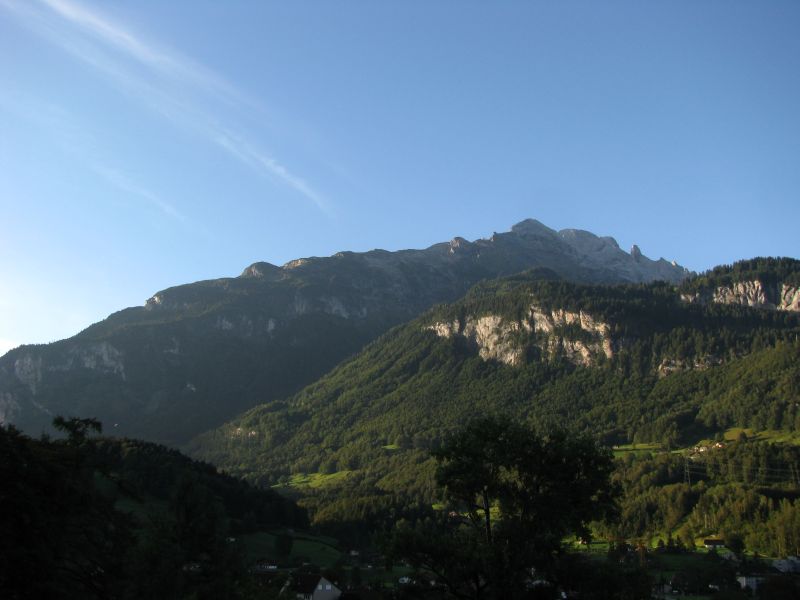 Meiringen
Reichenbach Falls. It is no Niagra, but impressive nonetheless. Thousands of gallons of pure glacial run-off pound earthward.
On a nearby cliff is a star—marking where Sherlock Holmes would have fought and faced his nemesis. But non-fiction is worth all of one's attention here.
On the trail higher up the falls drops of water anoint hikers like gladiators heading into battle—a visitor can climb as high as ambition allows.
But just being here might be enough, perhaps conquering a mountain is unnecessary. Just looking at the falls from close-up might add enough to the surrounding splendor. Just taking a moment to notice the small creek across the path, the birds serenading the journey—these things might be enough to bring a calm and remind us of a natural stimulant..a natural cure to stress and modernity.
I needed to spend just 2-hours to get here, to experience this…a bargain by my calculations. And a perfect addition to my walks through these European streets.
(Music: The Album Leaf – "Into the Sea")

More information on the music in this piece:
Schiller from the album "Sehnsucht"
The Album Leaf from the album "Into the Blue Again"